Day 3, and we were still staying at Wangaratta. Our friends left on that morning. Alex was sad to see his mate go and kept pestering us with question - "When will I see Caelan again?", "Is Caelan coming to visit us in Sydney?", "Can we move Canberra closer to Sydney?Why not?", "What about if we move Sydney closer to Canberra?". What is it with this child? We cannot move cities, no matter how much we want to!
Alex and Caelan had one last playtime together at the neighbouring park before we bade our friends adieu, and we left to go up towards Rutherford. This is when we made the discovery that perhaps my trusty pocket wifi isn't so trusty after all. Midway through our drive, my maps refused to reload!! It really wasn't the fault of the device so I should not blame it's reliability. The mobile broadband coverage was pretty much just around the Hume highway. the further we strayed from the highway, the weaker the signal. This was also when we realised that the roads in the area are very conveniently named. The road between Chiltern and Beechworth is called the Chiltern-Beechworth road, for example. So as long as we knew what was behind us, we could easily work out where the road would end. Very convenient when Google maps isn't working.
Our first stop at Rutherford was at the
Stanton and Killeen winery
. They had some really nice stickies, and I wish we had the money and space to bring home more bottles than we did. We ended up with some nice muscats. Their topaques (also known as tokays) were nice, but not as nice as the muscats. They let us try some of their 25 yrs aged muscats and wow! It had amazing flavour that lingered. I am no wine expert and don't know all the right words to describe it but it was very very nice. It was tempting to buy a bottle (or three) but we refrained. At about $80 for a half bottle (375ml), it would have been a very expensive drop. The trouble with expensive wine is that I can't bring myself to drink it! What a waste. The other wine worth trying there is the Auslese, which we ended up buying as well. It is a light dessert wine with lots of flavour but not in-your-face-sweet. I would describe it as a sweet Traminer-ish kind of wine.
Next stop was lunch at Rutherglen. We ended up at a pub, and the food wasn't bad. I had the poacher's pie which had beef and game in it. They never did say what sort of game meat was in it but by the two small bones I found in it, I'd guess that it had some rabbit or hare in it. It was tasty. They also served really good chips, much to the detriment of my disappearing waistline. Chris's lunch order was the mixed grill which was okay, but as mixed grills normally are, it was just average. Everything a little overdone, but there was plenty of everything. The chips were good, though. Alex had sausages and chips. Can you see a trend here? Well, aside from the chips, the steamed vegies were also good, but when you douse any food in that much butter, it has to be good!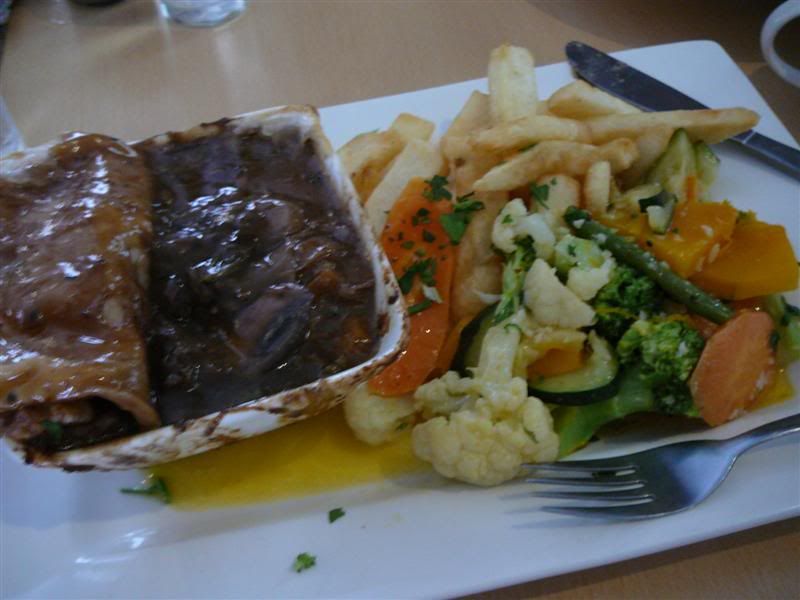 poacher's pie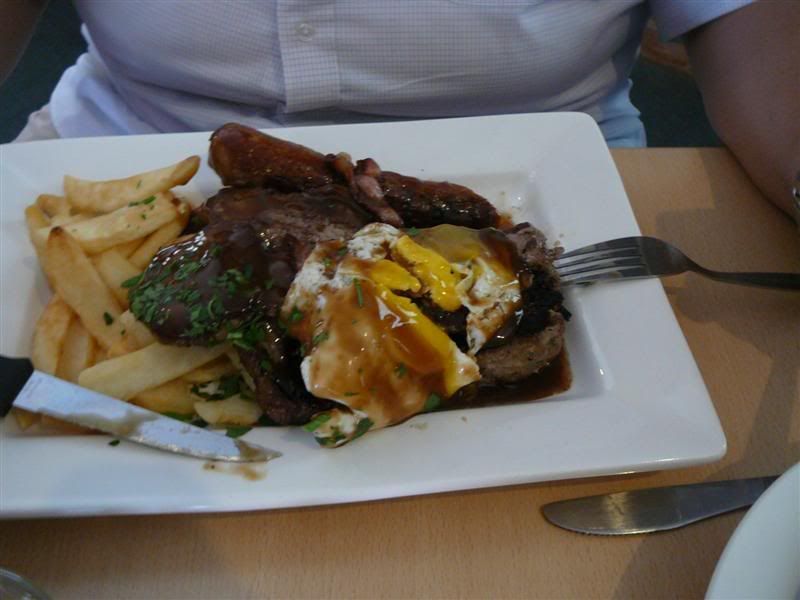 mixed grill.. notice the lack of vegetables??
sausages and chips. Alex was impatient.
The next winery we visited was All Saints. It's a lovely setting, with a "castle" built on large grounds. There was a rose garden to explore, a little lake (or pond??) you could sit beside for tea, and a cheese shop on the grounds as well as the cellar door.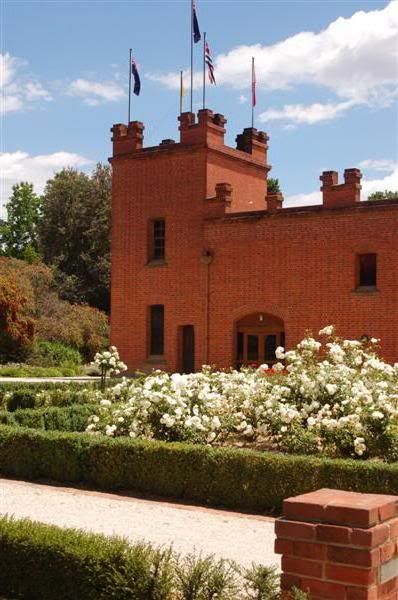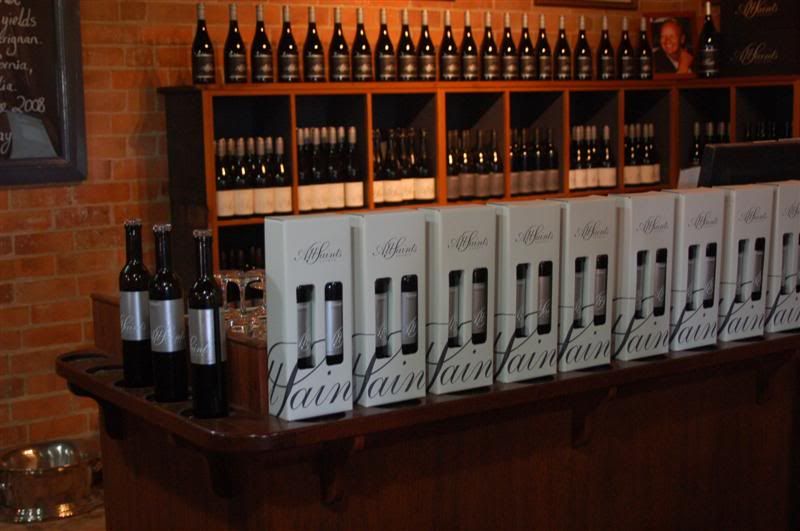 We very quickly discovered that the rose garden would have been more aptly named the mosquito garden. We took some quick pictures before venturing off elsewhere for more photo ops.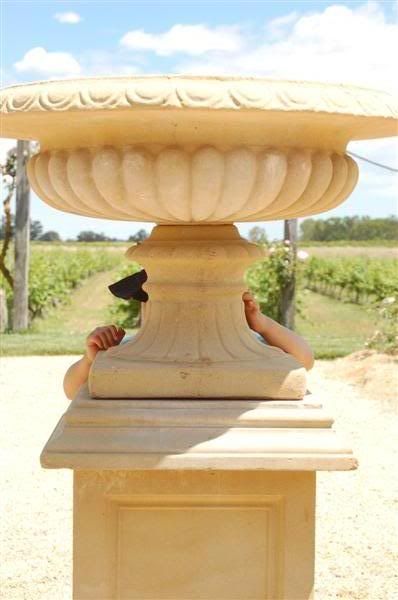 Peek-a-boo!
We moved on to Beechworth after that. Google maps was still out of action (or at least our mobile broadband connection was) so we relied on a map that only showed the main roads, street signs and road names. We did end up in Beechworth without any trouble at all. The roads were mostly straight and boring. The town itself was interesting. It was quaint and quite pretty. There were many old buildings and interesting little shops for us to poke around.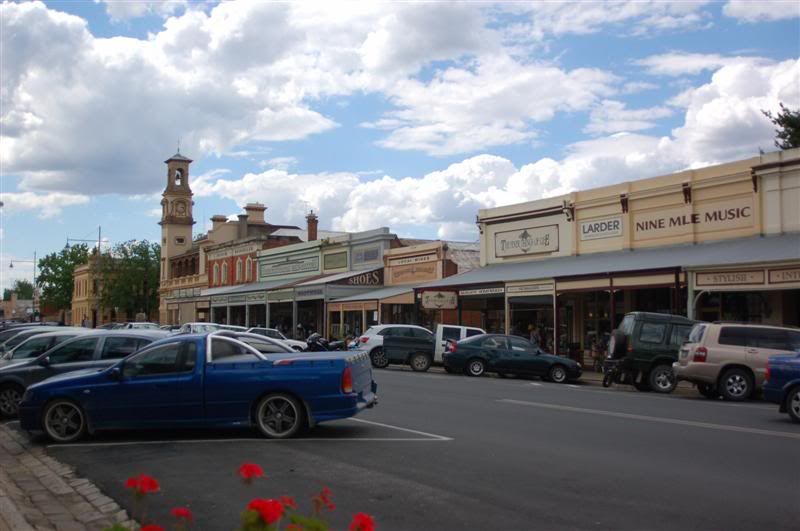 Down one end of the street is an ice-creamery. Perhaps I have been spoilt by good ice-cream, as I was very disappointed by the ice-cream there. The almost fluorescent green pistachio ice-cream seriously lacked pistachio flavour. We also ordered rum and raising (which had 1 raisin in the whole serve) and another flavour which I can't remember. I don't know why I thought a small time ice-creamery would have excellent ice-cream, but I did. I now know better.
Labels: beechworth, road-trip, rutherglen