For a long time, Chris and I have been talking about taking a road trip together. If I recall correctly, this discussion started even before we were married. Then we got married, and I got pregnant, Alex arrived and then it was all too hard (or so it seemed) to take a baby on the road with us.
Alex is now nearly 4 and in just over a year he will start school. It hit me all of a sudden that if we didn't find time to do this trip now, we may not have another chance for many years to come. Once Alex starts school, we'll have to start thinking about school holidays and school activities and plan around all of that. So we decided to go.
And go, we did.
Well, I did anyway. I got into planning mode and started booking accommodation, looking up touring maps, etc etc. It didn't long at all. The two things that took the longest were deciding whether we were going to fly in to Melbourne and hire a car and drive it back to Sydney, or drive the whole way there and back, and deciding where to stop on the way back. After a few quick calculations we worked out that it would not cost us that much to drive the whole way and driving offered us the flexibility of packing extra bedding for Alex in case we needed it. We didn't decide on where to stop on the way back before we left.. but that's a whole other story!
Before we left, we had to work out what we were going to do about navigation. We don't have a GPS navigation system, you see. So, do we buy one for the trip and see whether we like it enough to use it after? Do we buy a whole lot of different street directories and maps? Then Chris had a
lightbulb
moment. How about if we just get a mobile broadband subscription (which we need anyway as a back up for my work) and bring a little laptop along with us? Google maps will see us through, right?
We set out on the morning of Friday 19
th
November, headed towards
Wangaratta
our first stopover. Chris drove. I sat beside him with my trusty pocket
wifi
beside me and little laptop on my lap. I was fully armed with a bag of knitting and a bag of food at my feet. Alex sat at the back and he was armed for the trip with a back pack full of goodies. I had gone out and bought a "
Shrek
movie pack" from my local
QBD

bookstore
for $4.99. It included a sticker book which kept Alex entertained for ages. There were other things in the pack including a book which I could read to him and a "movie novel", which held his interest for all of 2 seconds until he realised there were no pictures in it. I also included Alex's drawing book, some reading books and a colouring book in his backpack.
Alex slept for much of the journey,which was excellent for us because when he was not asleep, he was talking. No, I am serious. These days Alex is like a talking machine. He's either asleep or talking ALL THE TIME! You can imagine how grateful we were when the chatter subsided and we could hear gentle noises of slumber coming from the back of the car.
Alex woke up in time for lunch at
Yass
. We stopped there thinking we'd scout it out and decide whether we want to stop there on the way back to Sydney. We very quickly decided it really wasn't interesting enough for us to want to stay there. Lunch was lovely, though. We ate at Cafe
Dolcetto
on the main street. The boys claimed the banana smoothie there was "to die for", but I don't like bananas so I took their word for it. My chicken salad was pretty good as was Chris's pasta. Alex just ate off both our plates.
Having the mobile broadband connection and the laptop with us was very handy as we could look up towns along the way to see whether there was anything interesting to see or anywhere nice to stop for lunch or tea. Chris had a mad craving for
sashimi
, and I did a search. the nearest was at
Albury
, and no, we did not stop for that. There's plenty of
Japanese
food to be had in Sydney and Melbourne so
there
was no need to give in to his mad cravings.
We pressed on to
Wangaratta
after that, arriving not too long before dinner time. Our friends, Megan, Shane and
Caelan
were already there. Megan and I left the big boys to nap, study or just relax while we took the little boys out to the park. The park was conveniently located about 5 minutes walk away from where we were staying. This proved to be very handy over the three nights we spent there as Alex just needed somewhere to expend his energy. The kids had a ball, and it was nice to be able to just sit and catch up with Megan.
On the first night, our dinner consisted of fairly average Indian fare from the restaurant next door. We over-ordered (as usual) and ended up with leftovers which became dinner the next day.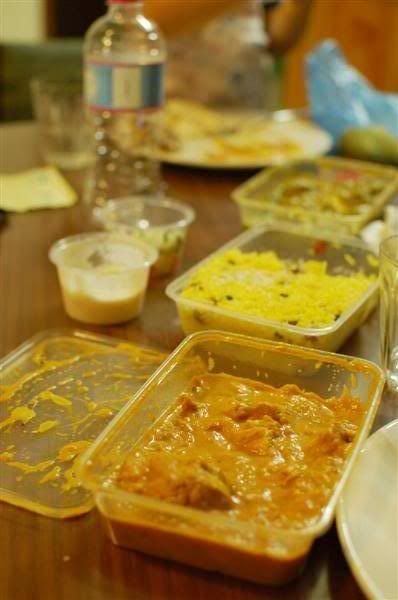 It probably would not have been as bad had I not gotten angry with them in the first place. We placed our order on the phone and was told it would be ready for pick-up in about 20 minutes. I arrived
there
20 minutes later to find
that they
could not find my order. What had happened? The lady
who
took the call still had my order attached to the order pad and the order pad was in her pocket. So I was told that they would rush it and I could have my food in 15 more minutes. Fuming, I walked to
Coles
to pick up breakfast supplies. After all it would be between waiting 15 more minutes for our Indian food or
going
elsewhere and being prime dinner time then, it would probably have taken longer to get our food. about 15-20 minutes later I arrived back at the restaurant. The lady who was looking for my order greeted me with horror in her face and the question, "Wrong order?"
Uhm
, no, I haven't received my order yet, remember? Anyway, about 10 minutes later I finally made it out of the restaurant with our food. Our 20 minute quickie dinner run ended up taking an hour.
In the picture you can see a curried chicken dish in the front (chicken
pishwari
or something) which I found a bit ho-hum but Alex enjoyed. It didn't make his mouth hot :) I chose the
saag
paneer
(usually called
palak
paneer
in Sydney, I think) which was hotter than I was accustomed to but not too bad. We also had a chicken
tikka
briyani
rice - I told you we over-ordered, didn't I?- which was again ho-hum. Hot but not spicy enough.
We settled in to an early night that night. We were all tired after all that travelling. Besides. We had a big day ahead - at the Brown
Grothers
Gourmet Food and Wine festival at
Millawa
.
Labels: road-trip, wangaratta