Monday, October 30, 2006
Okay, first things first..
Gray is a clear winner, but I am now considering whether I want a to use the gray I photographed or a slightly lighter one. As you can tell, I still haven't gotten off my behind to start crocheting the edging for Lizard Ridge blankie.
My ISE3 pal is the greatest
Look what she sent me!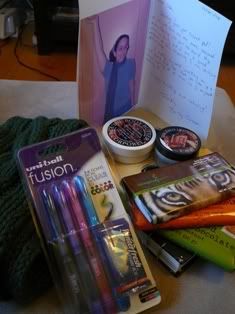 The chocolates will soon be gone, I am sure. Thank you,
Emily G
!
The scarf is a warm and cushy cabled pattern. It's absolutely gorgeous!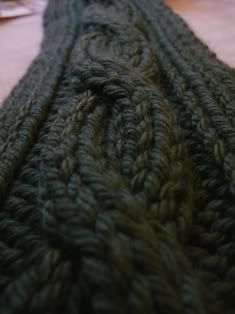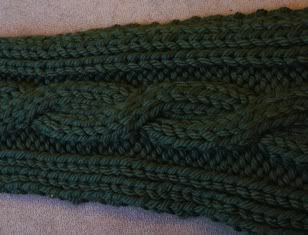 I have been wearing it all afternoon, though it isn't exactly a cold day here. It came at the right time. I think I am coming down with a bug of some sort as I have been tired and feeling flu-ey all day. The scarf is perfect!
I also received some funky pens which write in clear inks that turn into coloured inks, a nice notebook, some Body Shop cocoa butter cream and some body scrub.
Thank you Emily G! I could not have asked for a better scarf pal!
Oh.. did I also mention that my
scarf package has been received by my ISE recipient
- who also happes to be an Emily? What's teh chance, eh?
I met my KRSP!
My pal from the last round of KRSP came to Australia, and I met her!
Mary was an amazing pal. If you have been follwing this blog, you would have seen all the lovely gists she sent me -all the way from Sioux Falls.
We had dinner together at a little Italian place -
Giovanna
. We tried going to Danks Street, but it was closed. Anyway, I got a little greedy and ordered the lobster mornay which was way too rich for my mama belly. Hey, what can I say? I saw it, and Bubs wanted it. Chris' duck was lovely as usual. Not sure what Mary's chicken dish was like. If nothing else, the food came in generous portions.
We exchanged presents and once again I was astonished by Mary's generosity. She had brought with her (and carried them all around Fiji, New Zealand and Australia) 3 magazines and the Knitters Yarn Guide for me. Yes, for me! Pictures to come soon.. camera is still charging.
Uni is nearly over and done with
for this semester
I spent much of yesterday (Sunday) waiting for a portion of a group assignment that was meant to have come in by Saturday night. There's always one in every group I think - a slacker, that is. After a couple of reminders on Saturday night and Sunday morning, I received a text message from her at about 10am saying it will be in within the hour. Yeah, right... When that work eventually came in at about 1pm yesterday, it had spelling errors, grammatical errors, typos and was not properly referenced. Grr...
I didn't think that she would get it back to me in a timely manner so I amde the corrections myself before sending it out to teh group for proofreading. She sent me a text message on my phone saying she'll get back to me within five minutes, which eventually turned out to be 3 hours. Grr...
After a few more messages back and forth,I am relieved to say that the work is finally mostly done. Thank God!
I am also relieved that this is my last semester of classes. no more group projects for me!
Wednesday, October 25, 2006
Edging Candidates
I can't decide. Help me out, folks. I took pictures of the three candidates against different edges to see what they'd look like.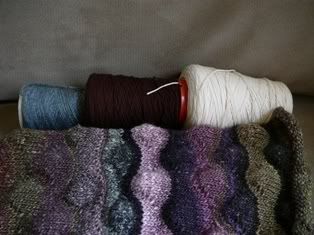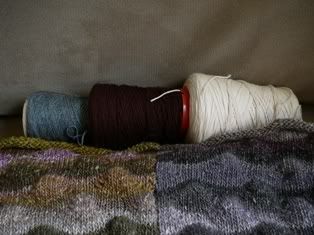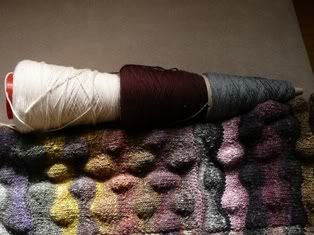 I am leaning towards the gray or brown, but I am not sure.
Should I go looking in my stash again? I also have a lighter gray which I can use but forgot I had so I didn't photograph it.
Tuesday, October 24, 2006
A post entirely for Cynthia..
Well, almost..
Just because you asked.. and because you did send me most of the yarn for making this blanket, here's a picture of the seamed Lizard Ridge blankie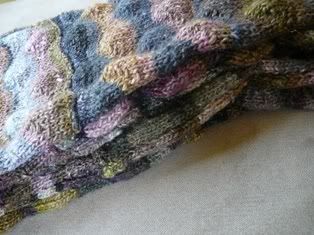 Oh, not good enough? You want to see it UNfolded? Oh, alright...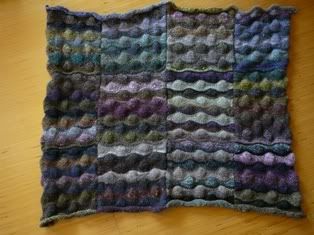 As you can see, it is curling badly. It needs the edging to be completed to stabilise it, but I just can't get round to knitting it. I haven't decided yet what yarn I should use for the edging. I was thinking that maybe I should use a solid coloured yarn, but what colour? I still have almost an entire skein of Silk Garden in the olive-ish, pinkish, purplish colourway (3 other skeins of this colourway were used in the blanket). I guess I can use that too, but I am not sure how Silk Garden will hold up to crochet.
When I was knitting the blanket I found that Silk Garden wasn't well spun, and there are spots where the yarn was so loosely spun it just drifted apart - eek! I am not sure I'll use silk Garden again for any othe rproject, especially not one that needs to survive regular use. It, like the Kureyon I have used in the past, is simply not strong enough. Sure, the colours are nice, but it's has nothing else going for it, in my opinion. There was a fair bit of vegetable matter in the yarn, including some rather twiggy bits.
So, what do you think? Should I get a sturdier, solid yarn for the edging, or use the remaining skein of Silk Garden?
Also for Cynthia
I have never made mittens before.
Okay, that's not entirely true. I have made felted oven mitts before, but I don't think they count. They didn't need to fit.
So.. why the sudden talk about mittens, you ask?
Cynthia
and I are doing a pre-Christmas exchange. She went to Rhinebeck and shopped till she dropped - well, almost. You can see her haul
here
- and that does NOT include what she bought for me! So, anyway, among the things I will be sending her are mittens. I don't wear mittens, but she does.
I saw the thrummed mittens pattern that will be in the
upcoming winter issue of IK
, and asked whether she'd wear them. That was the start of this whole mittens madness. I thought that maybe I should make some regular mittens before trying to make thrummed ones. There is also a pair of flip top mittens in the same issue. No way was I going to make my first pair ofmittens in pure cashmere, so I thought I'd compromise and make it in something soft and in a colour that I know Cynthia will like. Off I went to Rubi and Lana and picked up 4 balls of this:
I am all excited about knitting mittens and can't wait to start. In fact, I have decided not to wait for my winter IK. Considering my Fall issue has not arrived yet (don't get me started.. I have had a very similar experience to
Donni's
), I am not holding my breath for my winter issue. Besides, if I wait, I may not make it for my (self-imposed) deadline of Nov 30th. Why Nov 30th? Well, I want to make it in time for Cynthia's birthday in December, and also for Christmas, and I know the postal system is going to be NUTS in December.
Don't worry, Cynthia, I will be sending you more than a pair of mittens and some Tim Tams :) but I can't spoil the surprise and tell you what you are getting, can I?
Oh, and did I mention that I plan on making up a pattern for Cynthia's mittens? Yeah.. a little ambitious?
Some lovely things to knit
but I can't start till baby has arrived and I have lost my pregnancy weight. Go look at the
preview for the winter issue of IK
.
I really like the Wine and Roses Mitts. Whether I will get round to making them is another matter entirely. I am terrified of felting something so delicate. I can imagine myself crying big tears if I do felt these by accident.
Of course the thrummed mittens are on my to-do list if the magazine comes in time for me to make them for Cynthia. She's the only person I know who lives in a place cold enough to wear such mittens.
The Refined Raglan looks quick and easy to make and I think I can probably make it in time to wear next winter. The little cable makes it a little more special than your regular raglan. I think I even have the ideal yarn for it in my stash!
Love the Pewter Coat too.. but it has cables. I don't know whether I'll ever get round to casting on such an ambitious project.
Sunday, October 22, 2006
My first belly shots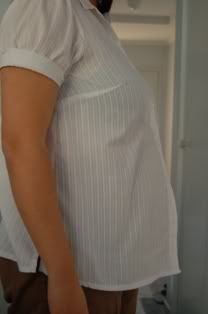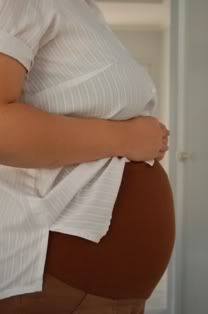 My belly has finally overtaken my uhm.. other assets. The baby is now about 26 weeks old, and BIG! That's what babies do, right? They get big, and bigger.. and bigger
I think Bubs now weighs a little more than a 1kg bag of rice (or potatoes).
Lizard Ridge
All 12 blocks are now done.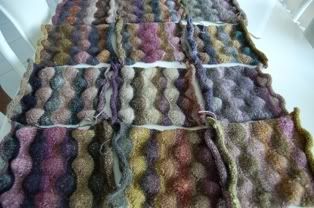 I started seaming it at my in-laws today, and completed the last bit when I got home. It's all sewn up now, and I am ready to startknitting or crocheting the edge.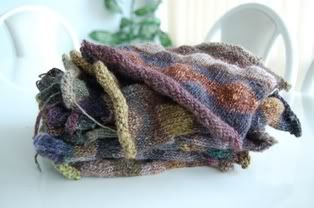 That's a large stack of blocks! To think that it was only 12 blocks - half the total number required by the pattern. I don't think I can knit 24 and then SEW up 24 blocks. 12 is quite enough, thank you very much!
The seamed up piece measures about 30 in x 37 in (unblocked).
A word of advice, folks. If you are knitting this pattern, do as it says - steam block it BEFORE sewing it up! It will make your life that much simpler. Truly.
Tuesday, October 17, 2006
They arrived!
Thank you,
fiberaddict
!
I received my red/pink colourswap exchange package. What an awesome package it is too!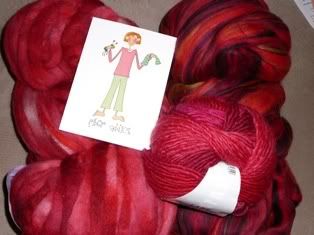 There is some Crown Mountain Corriedale Pencil Roving (left), some wool top (right ) in gorgeous colours and some Lang Tosca yarn.
My IK hurt book sale also arrived. Yes, I bought them in July, and they only JUST arrived.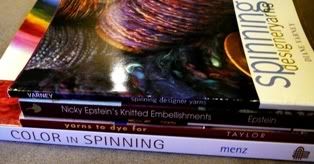 Good thing I wasn't in a hurry, huh? Well, I am off to read my new books now!
Monday, October 16, 2006
More roving listed
I have listed the newly painted roving
here
. Go take a look. I don't know which I love most. Every time I dye roving, I feel like I want to keep it all for myself, but I just can;t spin and knit fast enough!
Lizard Ridge progress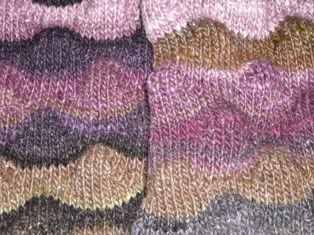 This is a picture of my two latest blocks - bumps and all. It's a little washed out by the flash. The colours are richer than the pictures let on.
One down, three to go
I handed in one of my assignments tonight, and there are another 3 to be finished before the end of the semester. Am I going to be able to finish it all?
Sunday, October 15, 2006
8 done!
Lizard Ridge Blanket
8 down, 4 to go. That's right, I am more than half way there. There are mroe pictures on the camera but right now, I am just too lazy to edit the photos andput them up. maybe next time, okay?
I think I'll get to12 squares in another week or two, which means the blanket will be finished pretty soon. The squares knit up quite quickly, and they are still not boring me to death yet. My only complaint is about the scratchiness of the yarn. It's not as bad as Kureyon but it's not soft and certainly not smooth. I have to pull bits of vegetable matter out every now and again, which is not something I have to do with other yarns I have used - not even the organic yarn! Anywa, about the scratchiness.. I was todl that after a good soak and wash, it will soften. I sure hope so, as it's definitely not soft enough to be a baby's blanket now.
Uni sucks..
I have spent much of the weekend working on an assignment for Monday night's class. I have read over the paper, and although it is not great, I think it will have to do. I am sick of reading about governmentaid and writing about it. Enough!!
I have another few weeks before the term ends,and another 3 assignments to hand in, not including this one. Looks like I will be a busy bee for the next few weekends. Terrible, I know, and it's nobody's fault but my own. Somebody tell me the bit of paper I will get at the end of all this is worth it!
More dyeing in this house
Yesterday was a stinking hot day, and what did I do? I dyed. Well, we did three loads of washing, and I dyed as well. There will be some more merino roving going up for sale at my
Etsy store
this week. Just watch out for it, if you're interested.
It got up to 37 degrees Celcius here yesterday - talk about hot! We were taking down the dry washing from the line as quickly as we ould put up the wet stuff. Thank god for air-conditioning! We're not even at the height of summer yet. Heck, it's only the middle of spring. I think it's going to be a long hot one this year...
Baby progress
The baby growing is going well. Bubs is an active little thing. He kicks.. at the weirdest times of the day - in the middle of the night, when I am sitting with my feet up, etc. He also seems to like food. Most of the time, a few minutes after I start eating, he starts kicking me.
These days, I feel like I am carrying a sack of rice around with me.. Maybe a sack of hot rice, since I am feeling hot all the time. Sharlyn said that's how you know I am Asian. Other's would say 'a sack of potatoes' but I say 'a sack of rice'. I had to laugh.. it never even crossed my mind to say "potatoes".
Saturday, October 07, 2006
4 down, 8 to go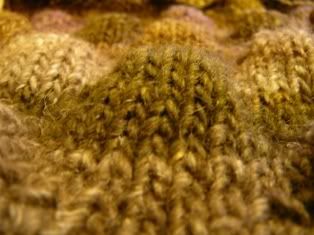 This is my little piece of alien landscape. I love the little bumps on it. The pattern says that I should steam block it before sewing the blocks together, but I like the bumps. I think it adds character to the blanket. Also, I think the baby will like the bumps - something to grab on to, you know. Oh, and about this becoming a baby blanket.. I am not sure it willbe for baby anymore. I like it so much and I think I may make it into a little lap blanket for me. The colours go well with my couch.. so maybe it will be a small throw that I can keep by the couch. We'll see. I don't know how big it will be yet. I was planning on making 12 blocks. I may buy more Silk Garden and make it larger if I am not sick of it by the time I finish the first 12.
4 are completed, and I'm onto my 5th block now.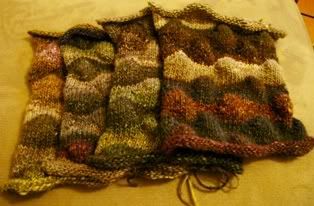 I think the colours are working out quite well. They are more muted than I had expected, but I think I like them that way. Thank you,
Cynthia
, for picking out the colours. It's working out really well.
Baby shopping
I know most first-time parents-to-be would probably have amassed a whole lot of baby stuff by now, but we have been putting off shopping as we don't have much room in the flat. We finally bit the bullet this morning and went to
Baby Kingdom
. Boy,oh boy...the shophad practically everything that one could need or want for a baby and then some. We ended up buying a cot and mattress, a stroller and a rocker and they will deliver everything a week before Christmas. We thought we'd only buy the essentials so that we don't end up with a whole lot of clutter and regret it 2 months later. So I guess we're done with baby shopping as far as the big things go. There isn't much else that we'd need. Over the next couple of months, we'll just focus on the little things like face washers, nappies, wraps, and other such nitty gritty things.
Baby is growing well, I think. My belly has grown by leaps and bounds over the past few weeks, and I can now feel his movements a lot more now than before. He seems to like to play at about 9.30 at night -
every night
! I hope he doesn't keep this up after he's born as I'd like to get some rest at night, thank you very much.
More dyeing
Last week I dyed some pure merino top and put them up for sale at my
Etsy shop
. Only one lot is left now, but more will come soon... maybe next week.
Tuesday, October 03, 2006
Cottage pie!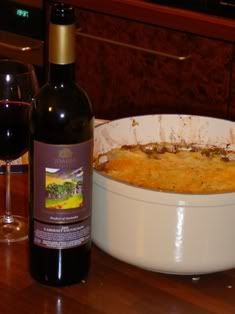 This baby has been making me crave "meat". I don't mean meat, I mean "meat" - like the stuff that is of dubious origin.. you know, like in meat pies, sausage rolls, etc.
For dinner tonight, we had cottage pie. I used beef mince, hoping that I can fool the baby into believing that I have eaten "meat" although I did use real meat. It turned out quite well. I thought I'd share the recipe with you.
1 large onion - diced
4 large cloves of garlic - roughly chopped
2 medium carrots - diced
1 zucchini - diced
10 medium mushrooms - sliced
1 kilo minced beef
about 8 medium potatoes
1 1/2 teaspoon dried basil
1 teaspoon dried oregano
1 teaspoon paprika
3 tablespoon Worchestershire sauce
2 tablespoon tomato sauce
2 tablespoon HP sauce
1 cup red wine (optional)
1 cup chicken or beef stock
Salt and pepper
2 tablespoon corn or wheat flour
2 tablespoons butter
1/2 cup cheese (cheddar or parmesan)
In a large oven proof pot or casserole dish, sweat the onions and garlic for a few minutes. Increase heat. Add carrots and mushrooms. Saute. Add meat and cook till browned. Add zucchini. Sprinkle flour over the meat mixture and stir to combine. This will help the sauce thicken when cooking. Add stock, wine, sauces, herbs and paprika. Season to taste with salt and pepper. Lower heat slightly. Cover pan and simmer for about 30 minutes.
Boil potatoes in some salted water. When cooked, drain and peel. Mash potatoes and butter.
Take the pot off the heat and spoon potatoes over the top of meat mixture and sprinkle cheese on top. Bake in 180 decree oven uncovered until top is lightly browned.
Enjoy! I know I did, and so did Chris. He had wine with his dinner. I settled for water.. I guess it isn't too bad.. only another 3 1/2 months till I am allowed all those forbidden foods and beverages again!
Lizard Ridge
The Silk Garden that
Cynthia
sent me arrived today. Look at all the colours!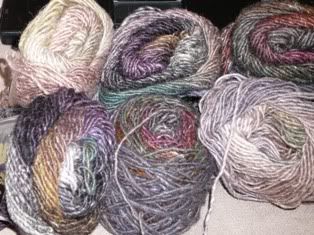 I could not resist, and so I have started a block of the lizard ridge pattern. I found that the yarn that I was using did not have enough variation in it for the pattern, even if I had knitted from the inside and outside of the skein as suggested. I decided to use two skeins instead. Here's the result.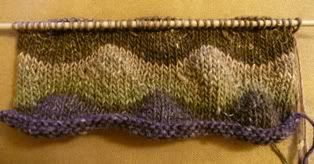 It's not looking too bad, even if I do say so myself. Since it's knitted on 5mm needles, it's going quickly - definitely more quickly than those wool/cotton squares I am making. I am aiming for a square a week so that I am done by the time baby arrives. I am only planning on making 9-12 squares depending on how large the squares are and how bored I am after a while. The original
pattern
says to make 24. I think that would drive memad. Besides, baby won't need such a huge blankie, will he?
Monday, October 02, 2006
Labour Day weekend
It is done!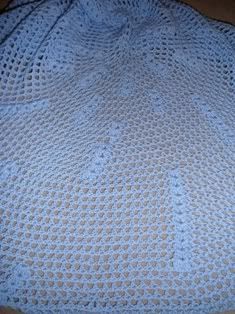 The blanket measures about 38 inches in diameter. I am not sure that it is going to be big enough, but I cam always add a few more rounds once Bubba outgrows it. I gave it a good wash in warm water and dishwashing detergent and most of the smell seems to have come off. I said
most
- not all! I hope another wash will do the trick.
I have also been knitting blanket squares in the hope that I may soon have enough for a blanket for Bubba. I have heard that I will never really have enough blankets for Bubba and I am hoping to have at least 3 or 4 completed by the time he is born.
The squares are knit out of some Cleckheaton wool/cotton I had lying around. I have about 3 balls each of blue and cream and about 12 (I think) of the lilac. I figured that if I mixed the three colurs together, it won't be too girly. I have eight squares now, and I am hoping to get up to 25 - maybe 20 if I get lazy.
The next baby blanket I am planning is based on the
Lizard Ridge
pattern on
Knitty
. When
Cynthia
went to
Webs
, I got her to buy me some Noro Silk Garden for the blanket. In return, I sent her some Online Kashmerino in claret (which is oh so smooth and soft) and a skein of hand-dyed sock yarn from my
store
. I can't wait to receive the yarn and start!
All in all it's been a rather productive weekend for me - some baking, some knitting, some spinning. Unfortunately there was no studying.. but that will come soon, I am sure. I have a couple of assignments due in the next few weeks - UGH!
Sunday, October 01, 2006
Chocolate chip cookies... yum
I need to bake.. like NOW!
I was desperately craving somecheddar cheese cookies last night and looked everywhere for a recipe. There were none to be found - none suitable anyway.I ended up trying a recipe I found on a recipe website, but it was a disaster - a disaster so bad we ended up throwing out the whole lot this morning.
I woke up this morning still wanting some cookies. I decided to make do with some chocolate chip onesand by about 10am this morning, this was cooling on my kitchen counter: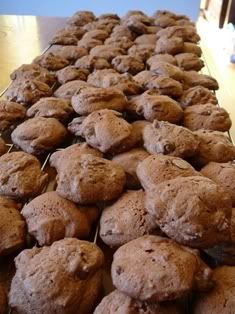 I ended up modifying a recipe I found on one of the online recipe sites. This what I used:
250g butter
1 cup white sugar
1/2 cup brown sugar
1/2 cup cocoa powder
1 cup plain flour
1 cup self-raising flour
2 teaspoon vanilla essence
2 cups chocolate chips
2 eggs
1/2 teaspoon instant coffee dissolved in 2 tablespoons hot water
1/2 teaspoon salt
Preheat oven to 175 degrees Celcius. Cream butter. Add sugars and mix thoroughly. Mix in vanilla essence, dissolved coffee and eggs. Mix in flours, cocoa and salt. Stir in chocolate chips. Spoon mixture onto an ungreased baking sheet using a teaspoon. Bake for about 12 minutes or until cooked and browned slightly.
Beware! The recipe makes about 50 cookies! We ended up taking some over to teh in-laws' today. I don't think we can eat them all on our own.
Slubby scarf
Is finished!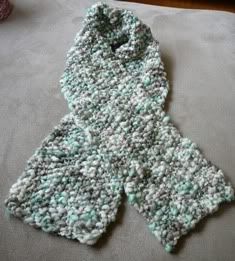 It was really quick. I finished it last night, whilst watching tv. I haven't washed it yet, but I have measured it. It'sabout 40 inches (or about 1m) in length. It's the perfect length for a neck scarf for me - thick and soft around my neck and not so long that it's lumpy under my coat. Chris thinks it is 'cute'.. good enough for me!
Red wool/alpaca/silk
Remember this, a gift from
Donni
who was my secret pal in SP6 (or was it 7?)?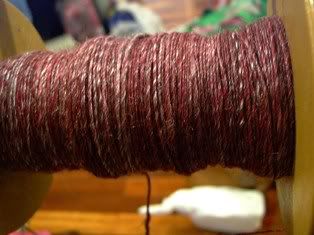 I did more spinning again yesterday and today. Another bobbin is cleared - woohoo!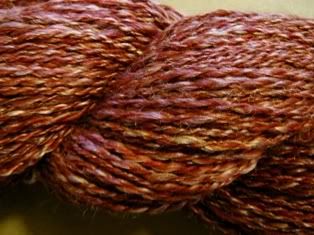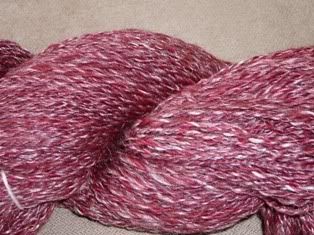 About 280m (or 305 yards) of red luscious beauty. Now, if only I could decide what to do with it. There's enough here fora scarf, I think, but do I really need another scarf? I do have one coming my way courtesy of my
Scarf Exchange
pal. Any suggestions as to what I can do with 280m of dk weight (8ply-ish) yarn?