We're all set for his arrival now, and he's still not here yet. I did wake up a couple of nights ago with what felt like contractions, but they just faded away after about 30 minutes. How disappointing. As you can see here, I am still very much pregnant and the little one seems to be very happy to remain on the inside.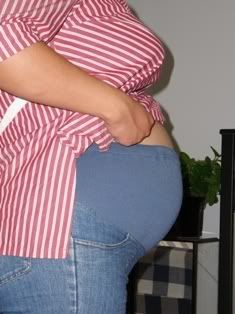 The cot is ready, and all his little clothes and blankets are washed. We did have some trouble getting the mobile to work, and had to return it. That was easy enough as the shop just swapped it for a new one, which we have tested and works fine. I can't wait to have a little baby to put into the cot now that it's all made up.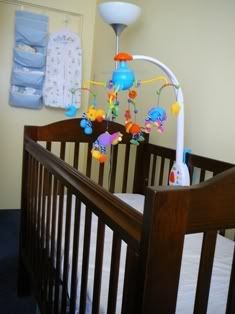 Last night we put together the bath, cleaned out the bathroom (don't ask..) and put away the blankets. That's when I realised that we have a lot of blankets for one little baby. I have a
blue crocheted circular one
,
the Lizard Ridge
(which I am still reluctant to call a "baby blanket but it IS amongst the little one's things), a couple of store bought ones that were given to us, the
blue and aqua one
which is currently in the wash and the blue, cream and lilac one which is drying on the line right now.
Yes, folks, I did finally finish that blanket that's been hanging around for oh so long. Before I show you what it looks like, I'd like to show you this: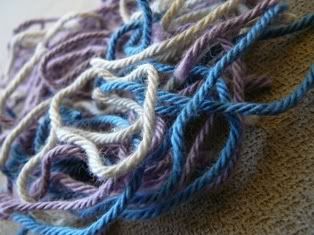 That's how many ends I had to sew in and cut off. All that for one itty bitty blankie. Trust me, I am never again making one of these blankets!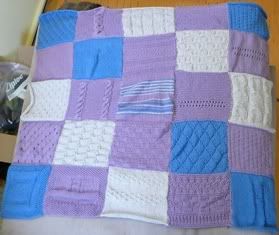 It looked a little unfinished without an edging, so I bit the bullet and put a crochet edging around it. It looks much better now, but it's drying on the line and I can't show you a picture yet. I'll have to remember to take a picture of it before putting it away. Can you tell I am proud of it? Of course I am! It was a test of my patience, and I passed (I think).
On Wednesday night, we met up with some friends for a night of board games, food, wine (though not for me) and much laughter. One of our friends had found this and bought it for us: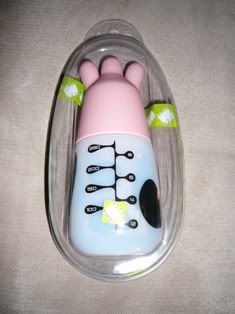 Isn't it cute.. and so apt!
Christmas with the in-laws this year was fun, though it did feel sad to not have the whole family together. Chris' brother and sister-in-law now live in Jersey and this is the second Christmas we are spending without them. They LOVE (and I do mean
LOVE
in capital letters) presents and get into the whole gift-giving and receiving thing in a BIG way. Without them, the bottom of the Christmas tree looks so bare.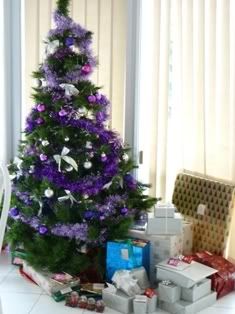 Okay, it's not really bare, but if you have seen it in years past you'd know what I mean. Usually the floor around the tree is covered with presents and they are all stacked up high with presents - mainly for Chris' brother and sister-in-law, and mainly from each other!
The special present that we had for the family this year was this: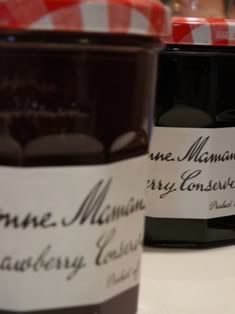 These, my friends, are no ordinary jars of jam. Do you remember when
Chris went to Paris to surprise his family
? This is the jam they had with their breakfast whilst in Paris. He thinks it's the BEST jam ever. Not being much of a jam-eater myself, and not having tasted it, I think I'll just take his word for it. We found it at one of the local shops while doing some pre-Christmas grocery shopping and thought it would make a nice small present for his family.
I cooked a whole ham this year. I am so proud of myself. It's the first time that I've cooked a ham, and it turned out quite well, even if I do say so myself. My contribution to the Christmas eve dinner was a glazed ham and a turkey roll. I don't have pictures of the turkey roll, but it's just a turkey roll, you know, nothing special. The ham, on the other hand...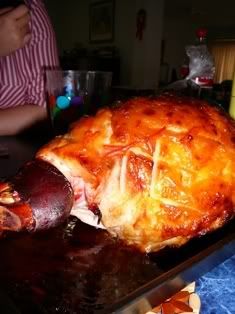 Even the cat was eyeing it...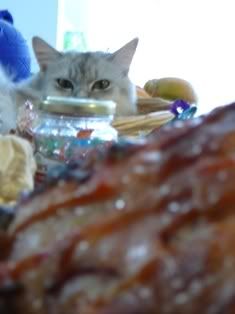 We had to freeze the leftover ham as there was so much of it. It was definitely worth the effort. The glaze was a mix of brown sugar, blood orange marmalade and Dijon mustard. It added a nice sweetness to the outside which matched very well with the delicate smokiness of the ham.Oh yum!
Oh, and on Christmas day, we had lunch with Chris' extended family and dinner with the Cooper-Garrett clan (who are like a second family to me). Our contribution to Christmas lunch was roast pork and I am so glad that we decided to make that. It was a hit. There was hardly any left over, and that's something considering the amount of food we had. the relatives were very generous and threw us a little baby shower. We received all sorts of things including a cot quilt set, a music and lights thing (which will keep baby entertained, I hope) and a whole lot of hand-me-downs, for which I am eternally grateful. One fo Chris' cousins has a 4-year old and she had kept all her baby things. We got bibs, and towels and all sorts of practical things. We also got a stroller - a good one too. We gto a bed-rail, a play mat, and lots of other goodies. Yes, folks,w e are now definitely ready for baby to arrive...
Bubba, it'stime to come out and play!