Cotton Lace Tee
Jen, help!
I have hit a snag with the instructions on this project and Jen's on holiday. I shall wait (rather impatiently) but I shall wait for Jen to return. Meanwhile, I'll be working on other projects.
Silky luxury
I have been spinning more of that merino silk blend that I spun on the spundle last night. It is pure luxury. It's soft, it's smooth, it's pretty, what more could I want?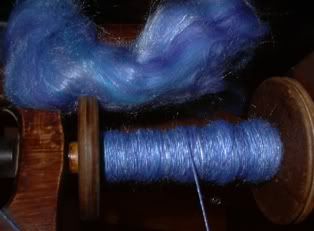 I wish I could get a more accurate picture of the colour. It is looking washed out in the picture, but really, it's a gorgeous blue. It's bright but not hideously so, and the sheen on it.. my, it has a sheen!
Scarf Exchange progress
Becky
has finished her scarf! Wow! Go read all about it on her blog, and look at the pretty picture.
Alicia
has started her scarf. It's ok to tell us about it, Alicia. The recipient doesn't know you're her secret scarf pal, so she won't know your scarf is for her.
Jena
and
Sally
have bought their yarn but not started their scarves.
Jennifer
has a picture of her scarf on her blog. I wonder who her pal is...
Kiri Shawl progress
Just as soon a I finish typing out this post, I'll start working on it.