I caught a cold, what should I do with it?
I've spent half of today in bed with hardly any food. I couldn't remember the old wives' tale that says you should starve a fever(or cold) and feed a cold(or fever). I couldn't work out which it was, but I wasn't hungry so all I had was some canned chicken soup and a bowl of lemon jelly. The Chris came over after work, and guess what, I became hungry! We went out to the shops and bought some noodles from the Vietnamese shop, some chicken from the Colonel (Sanders, who else?) and ingredients for a trifle.
The trifle wasn't so great - I did use enough alcohol.
Trifle Recipe
1 sponge jam roll
As much alcohol as you like (the more the better I think)
Vanilla flavoured custard
A punnet of fresh strawberries (or any other berries)
Some frozen berries
Some chopped up dried fruit
Any flavoured jelly (made up and set before assembling the trifle)
Crushed nuts or toasted almond slivers
Whipped cream
Slice the sponge roll and drizzle alcohol over it. I used some muscat but you can use any other alcohol - Frangelico, Rum, Kahlua, Cointreau, etc). Line the bowl with one layer of sponge roll. Scatter fruits over it, scoop some jelly over that and pour some custard over that. Repeat layering till all the ingredients are used up. Spread whipped cream over that and sprinkle with crushed nuts.
For extra flavour, you can also mix the whipped cream with some of the alcohol before spreading on the trifle.
Lace Cotton Tee - marching towards the end
We are cooking with gas! I'm up to the bit where the back and front are joined. Yay! If I persevere, maybe I can wear it on the weekend (yeah right, and pigs will grow wings). One can still hope, though. I am still considering doing the crochet edging in a different colour. I'll have to look around my cotton stash to see what I have that will complement the pink/purple.
Kiri shawl - a start
I was tired of looking at the lace cotton tee and decided to start the Kiri shawl since it looks easy - a mindless project I thought. It's not exactly mindless, but it's not difficult either. It's very similar to the lace cotton tee - the lace pattern, I mean. I am using the skein of KnitPicks Shimmer I received from
Jen
some time ago. I could not find a pattern that looked good knitted with this yarn. I finally gave up. I decided that with the Kiri shawl pattern, if it ends up beig too small, that''s ok, I will just use it as a neck scarf. If the colour pools strangely, it's also ok, since as a neck scarf it will be mostly bunched up around my neck and only the ends will be visible. I have completed Chart 1 and am onto chart2. This is going slowly, though it is an easy project as I am trying to complete the lace cotton tee first.
And some spinning..
One and a half bobbin full of fawn coloured alpaca and a little more to go before I can ply it. I am trying hard not to overspin it. However I won't know till I ply it.
I knew alpaca was dirty, but I didn't know how dirty till I looked at my fingers today: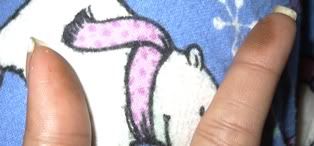 I even washed and carded this lot of alpaca before spinning!