It was Chris' brother's birthday today and we celebrated it with the usual Hernandez flair. Joel's wife, Yenni dreamt up the theme and created and bought all the party decorations which we put up in the dining area. The theme was: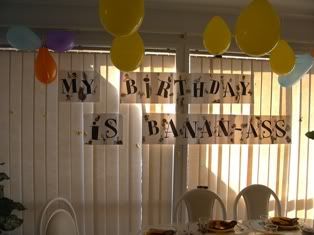 There were monkeys everywhere. This was one of my contributions to the "art work":

Yes, that was the ceiling you were looking at. The picture was
not
upside down.
We hung up balloons above the chairs, stuck bananas to the wall and monkeys everywhere.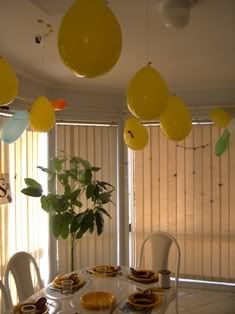 On the birthday boy's chair, his wife placed a piece of fake poo - monkey poo, I presume.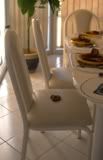 After it was found, this is what became of it: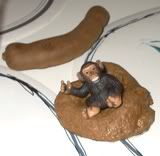 The long pieces that look like fake poo is actually dried tamarind. We thought it was rather convincing as fake poo and scattered it around the room and hung it on balloons and on the wall. Apparently monkeys like to throw faeces around. Uhm, I am not sure I believe that but that didn't stop me sticking the tamarind to the balloons above the birthday boy and his wife's chairs.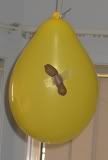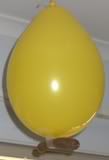 Rather convincing, don't you think?
Chris brought a nice bottle of wine. Even I had a few sips, and it smelt and tasted heavenly. Mmm, it was yummy!

Oh, and this is what the large cat Chris was sewing looked like. This is when it was disassembled. See how the body looks like it could belong to a cow?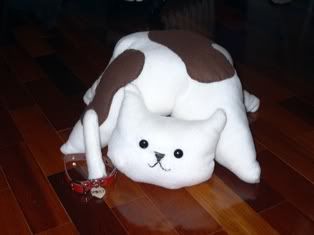 This is the finished cat, with a regular sized cat beside it to show how large it was.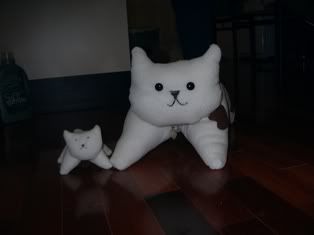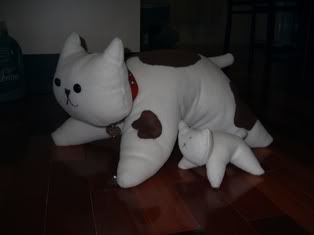 It even had a collar, and in case you could not read what it said, here's a close-up: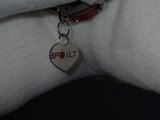 I thought it was brilliant. Perfect choice, Chris! I am still amazed that Chris did almost all the sewing himself. I did very little of the work. Pretty amazing, huh? Incredible what he can do when he decides to do it!
I managed to complete two baby hats (newborn size) for Brenda today. I am onto the third. I guess now that I am home I should put it aside and start on my cotton tee again. I am past the midway point -
WOOHOO!
It feels like it is getting quicker. Yay! I am really keen to wear it soon. I was so excited, I sewed up the sleeve seam yesterday so that I can try it on. So far so good.
I am contemplating the
Essential Indulgence from the fall IK
in some pure alpaca yarn I have. I will have to swatch it when I get time. Since the seams are on the outside, i want to make it a feature by sewing the seams in a different colour. Has anyone else done that? Pictures please? Will it be attractive?