A NEW EXPERIENCE
It's all
Emilyn
's fault! I had sworn off spindles after watching Sue drop hers repeatedly at class one night. It all looked to difficult, and you know what? My wheel is so much more efficient. And then I spoke to Emilyn, and she wanted to learn to spin, and we decided to have a little fibre exchange, and now let's just say the rest is history.
I went for my regular spinning class tonight, with the intention of buying stuff FOR Emilyn. And then I thought it may be nice to try out a spindle. Hey, why not, right? Hmm, Jenny had three for me to choose from. Well she had 4, but she could not find the fourth. So I thought I'd try them all out and see which I prefered. There was one that looked like an Ashford one, but it wasn't. It was heavy and didn't spin well, at least not for me. Despite all my urging it would spin a little and then stop. I gave up. I also tried a Turkish spindle. It spun quite well, and it was pretty but I did not like how the cross kept coming undone. I ended up settling on the first spindle I tried. It was light, spun well, and just kept going and going and going and.. yeah, you get the idea. I spun all night but have very little to show for it. I tried some brown sliver, some white sliver, and when I came home, I tried spinning some blue/purple merino/silk blend top. Here are the results: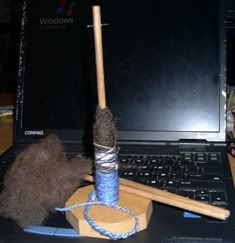 And now a close up: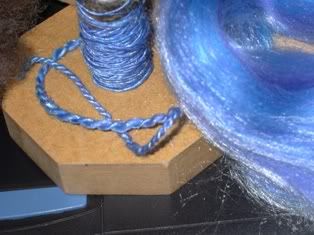 Pretty, isn't it? It has lovely sheen, I think. Emilyn, you are getting some of this, so you can stop drooling now. It's coming your way as soon as I get it all bagged and labeled. I am not going to tell you what else you are getting so you get a nice surprise.
What I did like about this spindle was what Jenny calls the 'cheat bar'. See the little metal nail on the top of the spindle? Instead of a notch, you use that to hold the yarn when you spin. It gives it a little extra 'push', I think, and helps stop the yarn unravelling when you spin the spindle. I also like that the spindle comes with three stick things (you know what I mean, that shaft thing, whatever it is called). This means you can spin on two and ply on the third. In case you didn't know, I have 6 bobbins. I love having more tan the minimum number of bobbins because it means I can indulge the side of me that just can't do just one thing. I get to spin a few things at a time without having to stop and wind off or ply.
I am now thinking that maybe I should get a spindle. It's portable right? It's easy to use (at least this one is) and hmm...
SUE'S KINDNESS

Sue from my spinning class reads my blog. Hi, Sue! Anyway, lovely lady that she is, she read about my bag of things for Brenda/Westmead Hospital, and she gave me a whole lot of handknitted hats and booties for premie babies. Wow! I don't know how long she took to knit them up, but it would have taken me a while to knit that many for Brenda.
Thank you, Sue!
BUSY WEEKEND AHEAD
It's our first knitting get together this week. We'll be meeting at Sally's house. I am so excited! I can't wait. I have no idea who is showing up, but I hoope we have a small group of at least more than just the two of us!