Today we have a little man who woke up with a very sore throat. All day he has not been keen to eat, and by evening, not only was he hoarse and miserable, he was starting to run a temperature.
So for dinner I made seafood congee. For the uninitiated, congee is rice porridge - cooked by boiling up rice with lots and lots of water.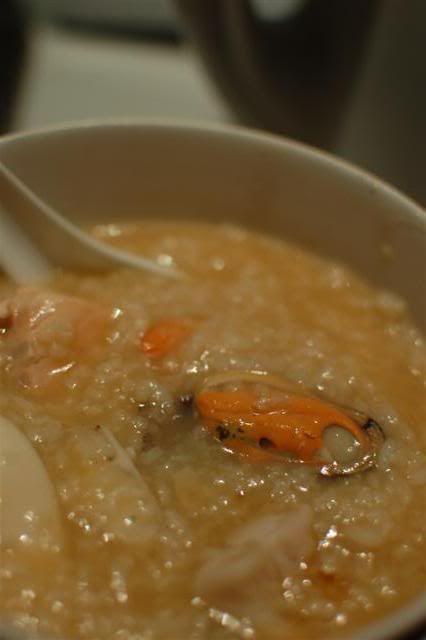 Ingredients:
1.5 cups rice
7 cups water
500g mixed boneless and shell-less seafood
A knob of ginger the size of your thumb - peeled
Soy sauce, white pepper and sesame oil to taste
In a large pot, wash the rice. Then add 7 cups of water and the ginger and boil till the rice grains are soft (like porridge) and the water starchy. If you have a large rice cooker, you can do this in a rice cooker too.
In a bowl mix the seafood with about 1 tsp of soy sauce and a dash of white pepper.
When the rice congee is ready, keep it boiling and add the seafood mixture. Remove from heat and stir the seafood into the congee. Add soy sauce, pepper and sesame oil to taste.
If you like, you can garnish with chopped spring onions and coriander.