It's evident that we are a family that likes food. Even little Alex finds it exciting to go to a new restaurant or to have something new to try. Recently we realised that the voucher for a pre-purchased meal we had at
Cala Luna
was going to expire at the end of this month and we hastily booked a table for ourselves. The question we were asking ourselves was whether to bring Alex or to have him babysat.
I decided I'd call the restaurant and their reaction would help me decide. So I called Cala Luna and asked them whether we they welcome children for a lunch time booking. This is not the first time I have used the phone call as a test of whether a restaurant is child friendly. If they hesitate, I know they are probably not prepared to have young children, or at least not welcoming for young children. To my delight, the person who answered the phone seemed more than happy for us to bring a child and even told me there are items on the menu that would be child friendly.
So we went for our "big outing" last Sunday. We packed a little backpack with a book, a magazine and Droidy - our android tablet. We weren't sure how well behaved he would be, seeing as the 6-course degustation meal would probably take us a couple of hours to get through. Nervous parents, we were. Alex was excited, though. We explained to him that we were going to a lunch which would have LOTS of new things to try.
We ordered the degustation menu for ourselves and a meatball sandwich for Alex. While we sat and wait for our food, and between courses, Alex asked for his book. He is currently enjoying the
Tashi series of books
and was more than happy to do some reading while he waited.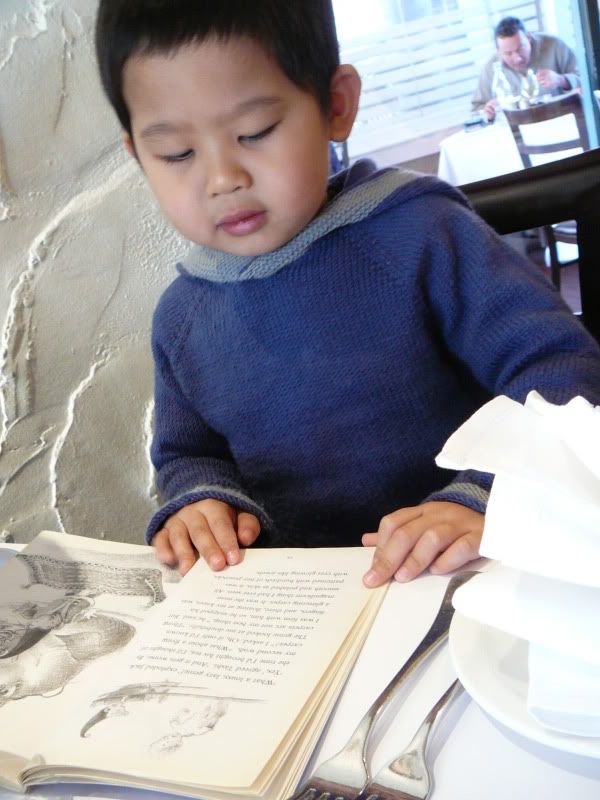 Along with our meal, our voucher included a bottle of wine. We chose to have the Chianti, which an imported Italian bottle. It was a very drinkable wine. Easy to drink and more-ish. I am sure tehre are better ways of describing it, but I'm no connoisseur and so I'll just call it "tasty".
Our first course was fresh pea and truffle soup. Before I tasted it I could already smell the truffle oil on top. Alex could smell it too, and he was not a fan. He turned his nose up at it and although he had a little sip, he declared that he did not like it. Well, fair enough. House rules are that he has to try everything but he does not have to like everything.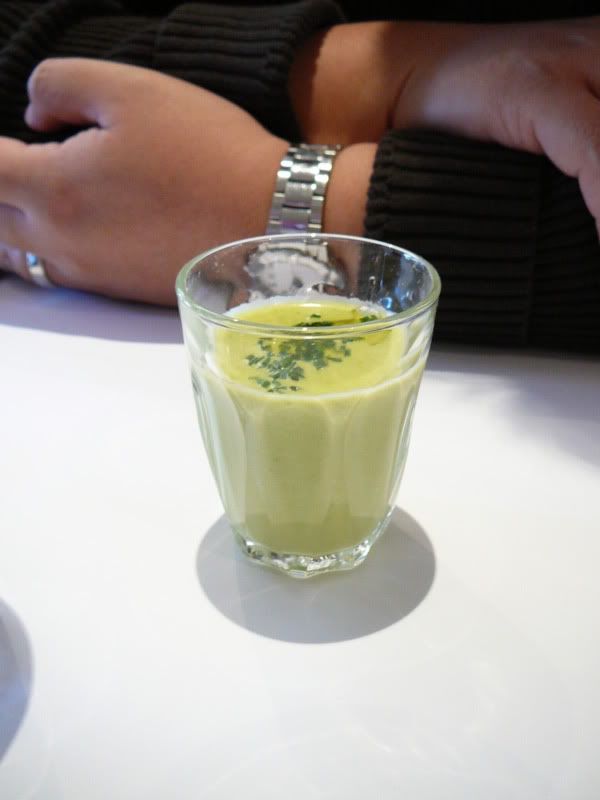 Next up was the antipasto plate with fried calamari. It was a little different from what was on the menu since the menu said it would be "
Italian regional antipasto (home-made salami, Italian imported Prosciutto, olives & cheeses)"
. We didn't mind as what we had was delicious. Alex enjoyed it too.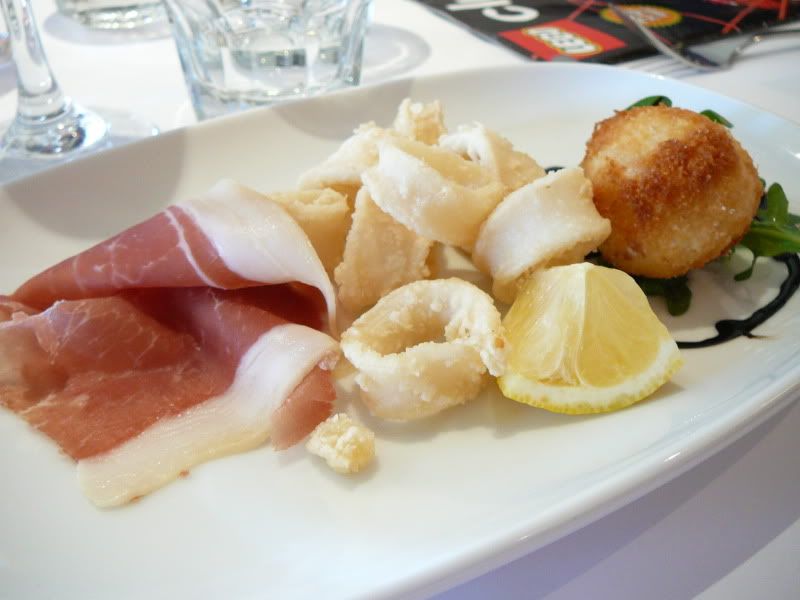 From left to right, we have a cured meat of some sort (parma ham? pancetta??), fried calamari rings and arancini ball with cheese inside.
After that we had the pasta course which was "
house made angel hair pasta with spanner crab, zucchini, garlic, chilli"
. Absolutely delicious. Alex saw the chillis and politely declined this course. He preferred to read his Lego club magazine instead.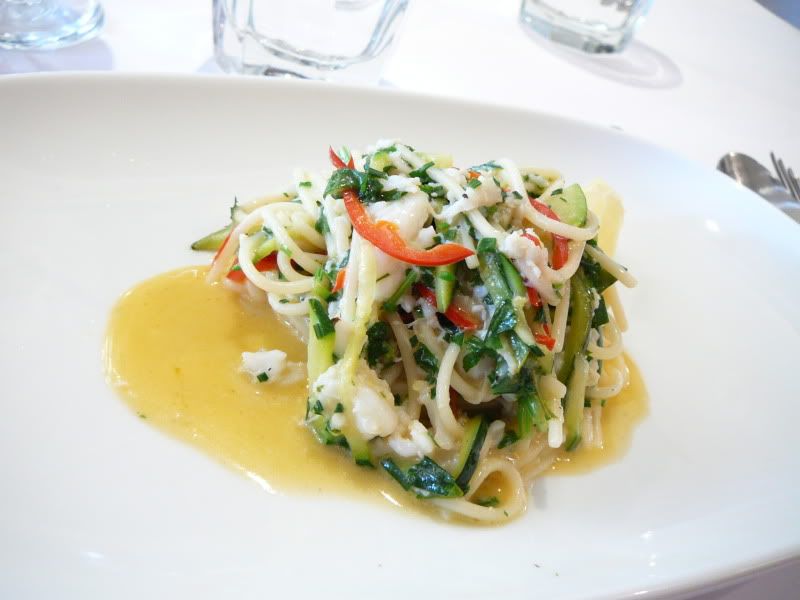 Then we had a short break with a palate cleanser - blood orange sorbet with campari. Alex tried a little. I tried to avoid the campari that was pooling around it, but I am not sure how successful I was. We all agreed that the sorbet was lovely and refreshing with just a touch of tanginess.
Then came the fish course and Alex's meatball sandwich.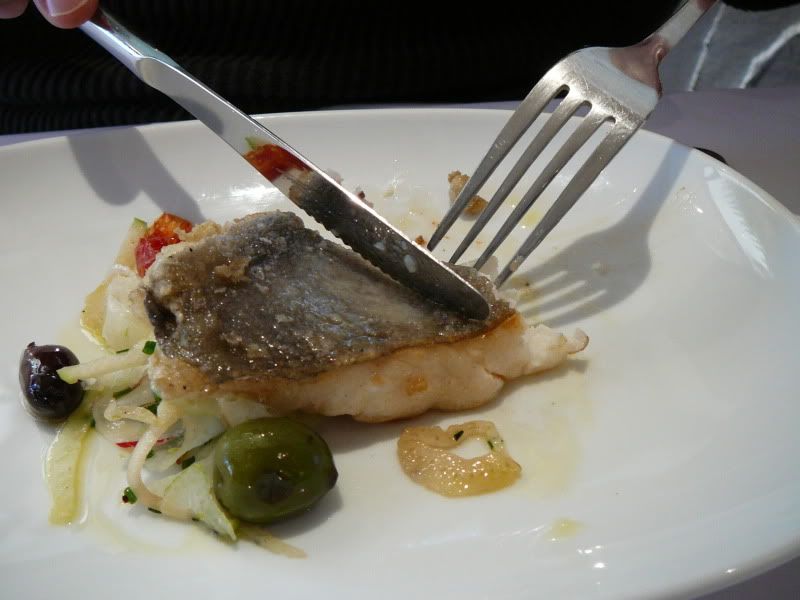 The fish was a John dory fillet on a lemon and fennel salad. The fish was nicely cooked and not at all dry as it sometimes can be. Alex ate about a third of my fish and about half of Chris's. In fact he preferred our fish course to his own meatball sandwich.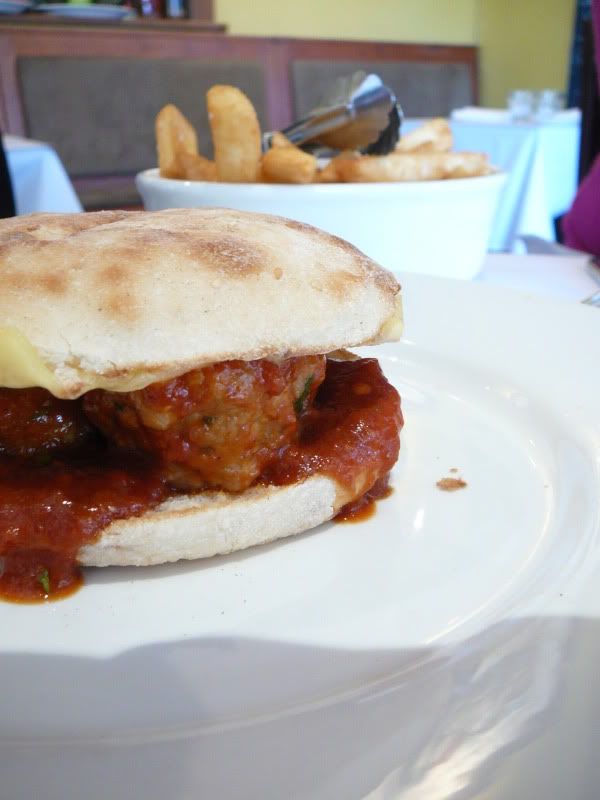 See it was not a bad meatball sandwich. In fact, Chris and I enjoyed it very much. The meatballs were moist and the sauce was fragrant and fresh. In fact if we go back again (and we probably will), I may order the meatball pasta for myself.
Next up was the meat course -
home grown milk fed veal with organic eggplants, chianti & pomarola tumips
. One of the features of Cala Luna, if one may call it that, is that they have their own farm in the Southern Highlands of NSW and source much of their produce from there or other local farms.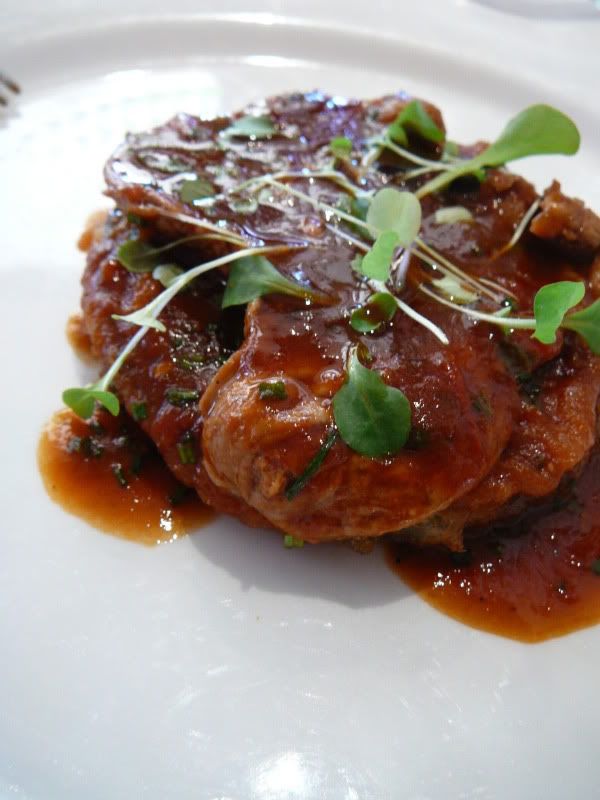 The veal was nicely done and oh so tender. That was Chris's favourite course. The eggplant had a nice char on the outside and was soft and flavourful on the inside.
Finally we were up to the dessert course. By this point of the meal, we were two hours into it and Alex had progressed past books and magazines to watching something on the tablet with headphones on. I know, it's not good manners to be reading and watching a movie at the table, but hey, would you rather a noisy child at the next table or a quiet one watching a movie quietly? I know which I'd prefer. We were allowed to order any dessert off the menu and I chose the chocolate tart and Chris chose the sticky date pudding. Since Alex had been quite well behaved, we ordered him his own serve of dessert. It was quite steep for $7, but hey, it was worth it! The sheer delight on his face was obvious. He even offered some to us!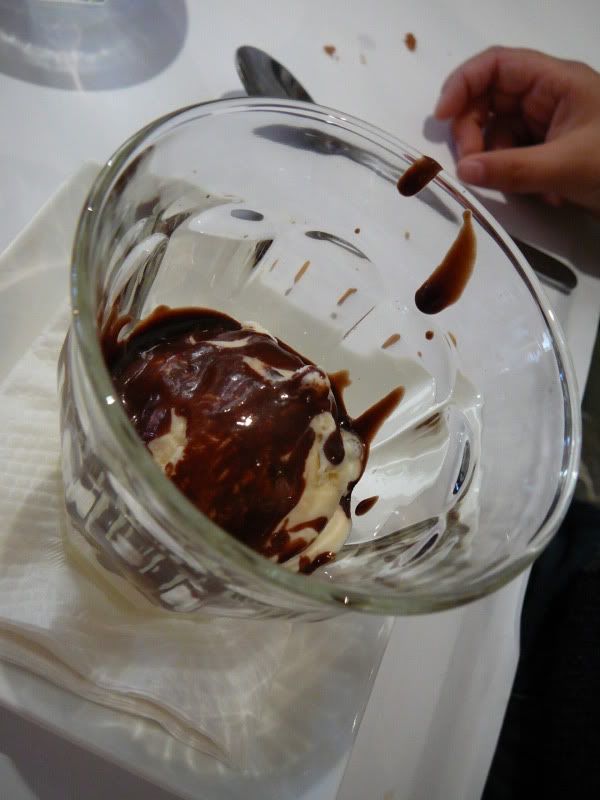 My chocolate tart with raspberry ice cream was magnificent. The chocolate was dark and rich.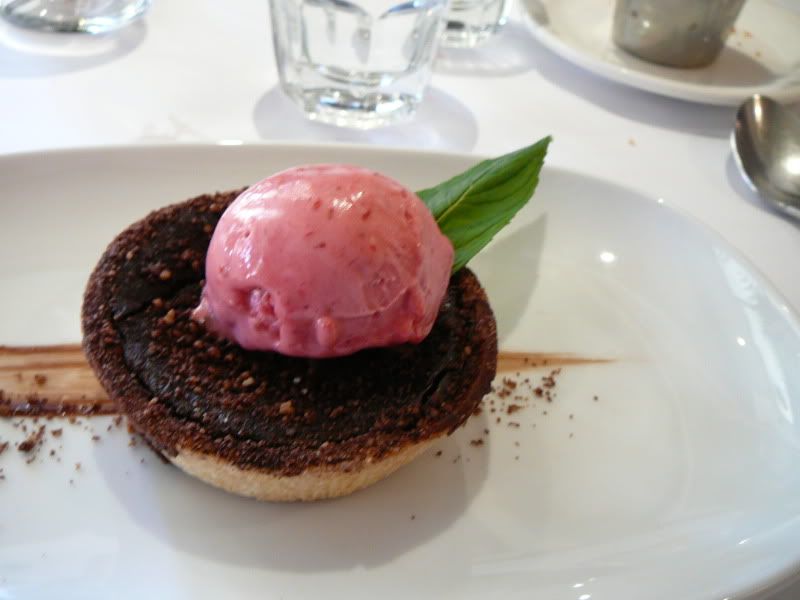 Chris's pudding was soft and luscious and went perfectly with the accompanying scoop of vanilla ice cream.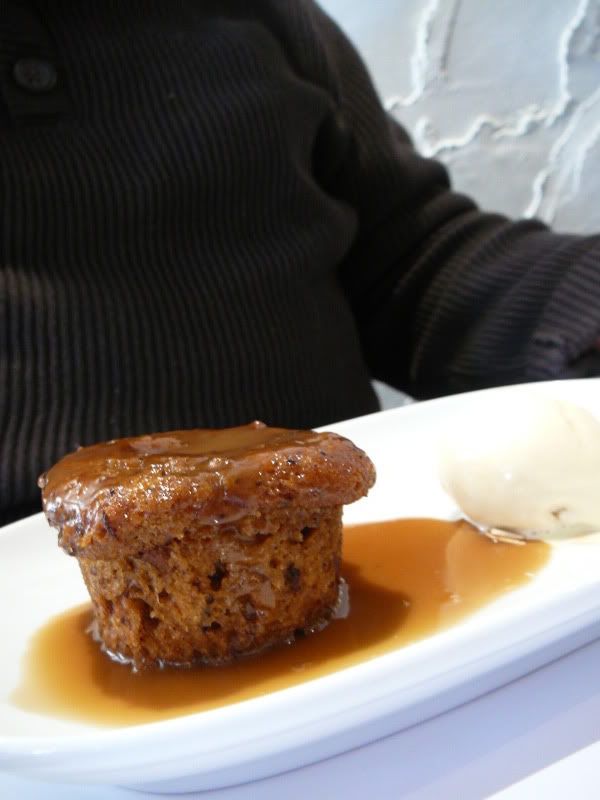 Oh and how could I forget the chips? We ordered Alex a side of chips and of course we ended up digging into it too. The chips were perfectly fried to a beautiful golden brown and crispy on the outside and fluffy on the inside. Absolutely delicious and oh so more-ish.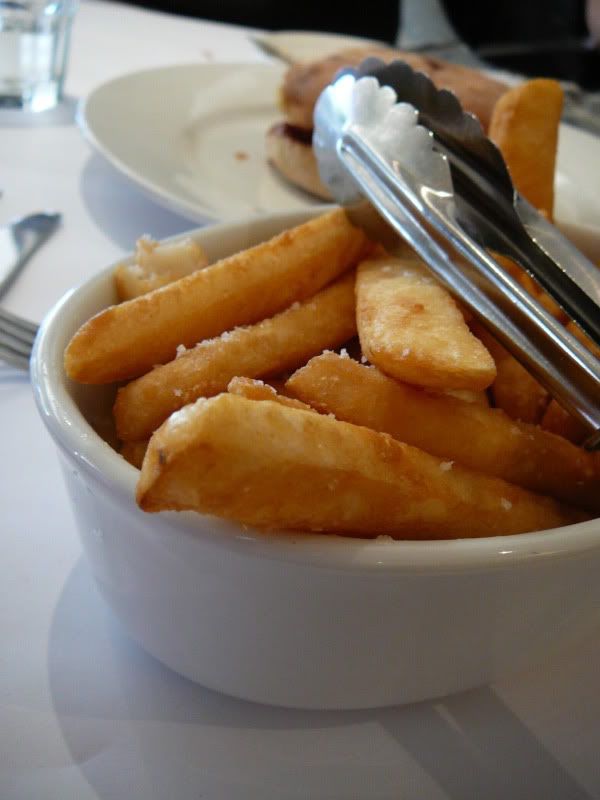 All in all we were very pleased we went. Even Alex enjoyed the whole experience, even if it did take two and a half hours in all.
Oh, and I am trying out having larger photos to see hwo they go. What do you think? do you prefer these larger photos or the smaller ones of my previous posts?
Labels: Alex, Cala Luna, degustation, restaurant