My mother-in-law makes the best
springrolls
on this planet. Honest to God, she does!
Last weekend I learned how to make them. So this week, I decided to give it a whirl. The recipe is simple enough.
The original recipe used spring onions, carrots and pork. I decided to add to the vegetable content and use chicken instead of pork as the pork mince at the butcher looked a little manky this morning.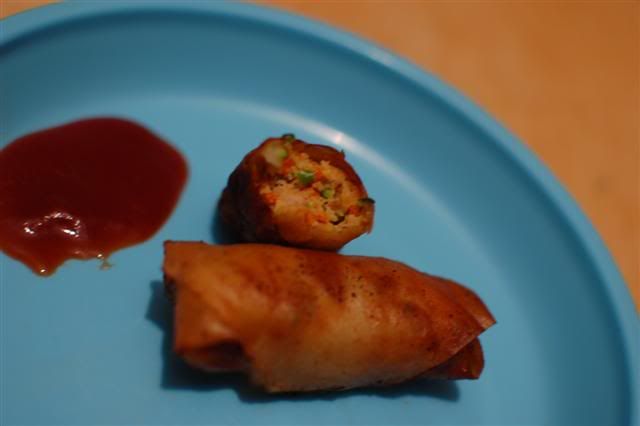 My version of the recipe:
Ingredients:
500g minced chicken
1 medium carrot - grated
1 large zucchini - grated
salt
white pepper
5in square
springroll
wrappers
Put vegetables and meat in a food processor and process till well mixed. Sprinkle with a little salt and white pepper and process further.
Separate the spring roll wrappers a few at a time. Place
teh
unused skins under a damp tea towel to prevent them from drying out.
Place a wrapper diagonally facing you. Place about a heaping teaspoonful meat mix on the lowest third of the wrapper. Pick up the corner closest to you and roll it upwards once, firmly encasing the meat mixture. Fold the two corners on the sides
inwards
and then continue rolling the bundle upwards. Lightly moisten the upper corner and stick it to the bundle.
In a medium pot, heat about 1 inch of peanut oil. Fry the
springrolls
a few at a time. Be careful not to overcrowd the pot as that will lower the oil temperature and the rolls will be oil logged. Fry till golden brown and drain on a wire rack or paper towel.
You can also use the same mix and shape it into nuggets. Lightly coat in breadcrumbs and pan fry till golden on both sides.
Absolutely delicious. Goes well with tomato sauce, sweet chili sauce or
Vietnamese
dipping sauce.
Labels: cooking, spring rolls