Sunday, February 27, 2005
A weekend of indulgence, and now I need another to recover form it!
My father was here this weekend, and Chris and I have spent much of the weekend eating with him.
We had two meals at
Prime
(count that.. yes, one, two.. two meals) in two nights! We also had yumcha with the ENTIRE Cooper-Garrett clan at the Manly Phoenix, which was rather pleasant. It was a lot quieter than the bustling yumcha places that we are used to in Chinatown. I guess, it's not bad, just different.
Oh, and today we had pho at
An
, which serves, what I think is easily the best pho in town. I have eaten pho both here and in Malaysia, and I have not had better pho anywhere else. Service is quick and food is good, what more could one ask?
Dad was kind enough to bring me my sewing machine, which I now have to learn to use. I wonder what I will make first. I considered some new curtains for my flat. It
will
add some colour to my living room and kitchen, and how hard can it be to sew rectangles, right? I still feel intimidated. Maybe I will sew the liningfor some of my knitted bags first.
Dad has left now, and gosh, I am exhausted.
I have hardly knitted all weekend. I have hardly had time. I doubt I'll have any time to knit this week as work is so busy, and what's more, classes start again this week.
Have I mentioned what a mess I have gotten myself into with classes this term? The univesity is fully aware that I am working fulltime. When I enrolled for classes, I deliberately selected evening classes as I will not be able to attened any day-time classes. So where have they ecided to put me? In a 1pm Wednesday class - WHAT THE?? When I wrote in to explain the problem, I was told that the evening class is now full. So what am I to do now? I was told to "wait and see" as some students may decide to drop out of the evening class. So what am I to do if nobody drops out?! [sigh...]
Wednesday, February 23, 2005
Scarf started and completed in one night
I am SO impressed with myself. I started and completed a scarf in one night

and a close up...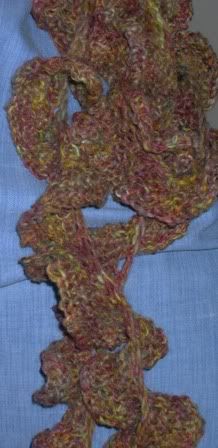 I used some yarn I had spun and dyed myself. There was enough for the scarf and I have about 10 or 15 metres left over.
It seems a litle skinny to me. I considered folding it over itself and sewing p the seam in the middle, but it didn't look as good. I giess I will just wear it wrapped around my neck a couple of times.
I have not knitted anything else today. I really should try to finish Tempting. Weather is cooling down a little and soon it will be cool enough to wear Tempting. Maybe tomorrow night.
Dad is in town. Chris and I will be taking him to dinner at Prime. Yeah baby.. world's best steaks. I am SO looking forward to that. Oh, and yumcha on saturday with the Cooper-Garrett clan down at the Manly Phoenix. Yay!
Meanwhile, it's back to work for me. My nightly conference calls wth folks in China are painful, to say the least. I guess it would not be so bad if my Chinese was better. i always feel like there is a 5 second lag between hearing what they say and having the words sink into my head. I think it is time I do something about my level of proficiency in Chinese, don't you think?
Monday, February 21, 2005
They are taunting me... really, they are!!!
It has been 21 days since the start of my self imposed yarn buying restictions and even longer since my last yarn purchase. I came back to Sydney, only to find out that Lincraft is having big sales and that they are closing down. Oh no!
AND that's not all!
Ozyarn
is also closng down and have cut 50% off the prices of everything in-store.
Cheap yarn all around me and I can't buy a scrap of it!
On the bright side of things, I have some pictures of things I have knited.
Here are my opal socks.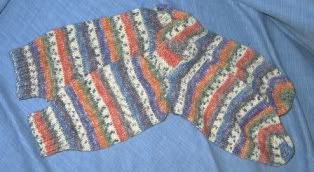 I completed them whilst in Malaysia. I have not washed them yet. I can't wait for the weather to turn cold so that I can wear them!
Since coming returning to Sydney, I have been trying to complete the projects I have started - such as Laurel Hill. It really is slow going. I don't think I will be making another cabled jumper again in a while after I complete this one. I really want to finish it so that I can wear it, but it's so slow to knit that I don't really want to work on it.
Tempting is coming along slowly too. I have knitted about 11 inches of it. I have trouble working out whether I have made progress. So, to encourage myself, I pinned a stitch hlder onto the row below the needles whenever I pick it up so that I can see how many rows I have completed. It makes it feel so much more rewarding. I kow, it is silly, but I really need to see the progress, otherwise I have so much trouble motivating myself.
i am not sure I have enough maroon wool. Do you think the pink will work? I was hoping to add a pink trim along the top edge (at the neck/shoulder opening) and along the bottom edge of the sleeves. What do you think?
Wednesday, February 16, 2005
I hate ironing!
The problem with doing so much shopping is the ironing I have to do now that I have unpacked! I have now run out of coat hangers and have to stop ironing till I can go out and buy more (well, that is my excuse anyway).
I arrived in Sydney on Saturday morning. As luck would have it, the conveyor belts were not working at the baggage collection area. Poor Chris waited for me for nearly 2 hours! I managed to get an hour or so of sleep before I had to make my way to his brotehr's wedding. I nearly overslept. Silly me! I had set the alarm clock on my mobile phone to go off, but I had forgotten to change the time on the phone back to Sydney time. Silly me! The alarm clock would have gone off 3 hours too late! Thank goodness Chris rang to check on me!
The wedding was held here: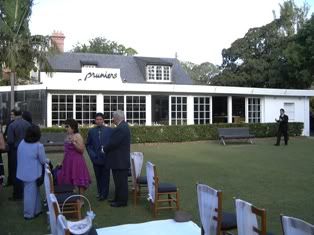 It was a lovely day for a wedding. The sun was out and it did not rain till towards the end of teh reception.
I am so glad I took Monday off. I needed it to recover from the lack of sleep. Chris and I ended up going down to the rocks for the day. We had lunch at lowenbrau Keller. Pork and beer, who could ask for anything more?! Oh! And a word of advice - if you ever eat there, don't ask for warm water! I was charged $5.40 for 2 tiny pots of warm water!! Ouch. Ok, I could ask for more - cheaper water!
We walked along the quay and admired the sights...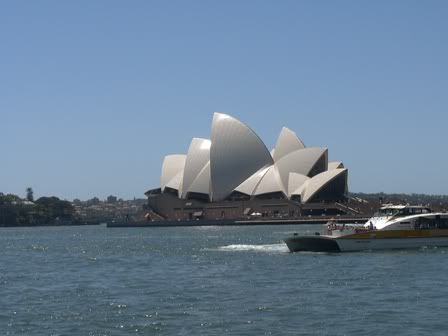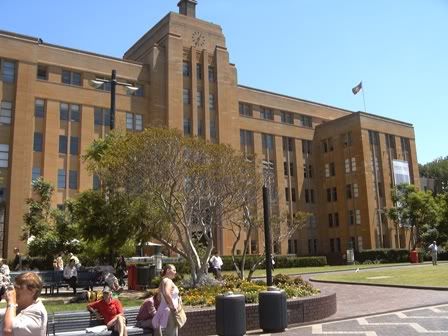 On the knitting front, I have not done much. I worked a little on the Laurel Hill jumper today but did not make much progress. I am so tempted to start another project. A shawl perhaps.
I was told that Lincraft is having a huge sale. Oh no! I dare not set foot in the shop as I know that I am weak and I have promised myself that I will not buy any more yarn till my birthday. No, promises are not meant to be broken. I will NOT buy any more yarn. However, if you are n the area, check it out. There may be something there for you!
Wednesday, February 09, 2005
Gong Hei Fatt Choy!
Happy Chinese New Year to all of you who celebrate it.

I realize it has been a couple of weeks since the last time I posted anything in this blog. I have been busy shopping and eating –two activities that are probably the most common for any visitor to Malaysia! I think at last count, I am taking back to Sydney 10 pairs of shoes/sandals and about 35 or more pieces of brand new outer wear. I am almost afraid to count how many pairs of underwear I have bought! I think that once again, my luggae will weigh more than the allowed 20kg.

We went to Midvalley Megamall today, and after saying that I will not buy any more 'stuff', I bought four cushion covers, a tiffin carrier for taking lunch to work and 6 teaspoons last year I bought bowls and mugs, a weighing scale and some cushion covers and tissue box covers. So at least this year I have bought fewer things. Hmm.. fewer, but not none! I am getting better, I think.

I was at FOS at Bangsar Village and managed to buy a light pink silk top for RM9.90 (that is about AU$4 or US$2.60 for you non Malaysians) It's nicely fitted and long enough. Most tops look short on me as I have a long body but this one was just fine. I think I will wear it tomorrow when I go visiting. (During Chinese new year, we visit our relatives, and they come to visit us as well). I also bought a linen/silk blend shirt for RM49.90. The label says "DKNY", and half of it has been cut off, which is what they often do at FOS as they are meant to be selling factory seconds and over-runs. None of the clothes were stained or defective in any way, so I guess they were just factory 'extras'.

I have also been shopping at the Nichi Fashion Warehouse along Jalan Sungai Besi, the Cheras market (yes, it is a wet market, but there is an entire floor devoted to clothes there), One Utama (my, oh my, is that place big, or is it big…), the Curve and Ikano Centre, Star Hill, Bukit Bintang, Lot Ten, Ampang Park, City Square, Great Eastern Mall and KLCC. Hmm, I think I have pretty much covered most of the shopping area of KL and PJ!

Food-wise, I have not had any durians, but I have had my Bak Kut Teh and Hokkien Fried Mee, and I guess that that's what matters. Tonight at dinner we had pork hock cooked in two different styles, salted vegetable, pork and duck soup and various waxed meats. Hmm, that's probably stuff I'd never cook in Sydney but love to eat.

It was a sad day yesterday when we had to send Shilo back to the SPCA, which is where we originally bought him. The silly boy got into a fight with Brownie, and Brownie had sunk his teeth into the back of Shilo's neck. We had so much trouble trying to apply the medication onto is neck as Shilo was getting agitated and snappy. On Sunday night he bit Dad and we had to take Dad to the doctor to get his tetanus shot and to get the wound dressed. It was unfortunate but we decided that we had to send him back to the SPCA since he would not let any of us near him. I was not home when the man from the SPCA came for him, but Dad said that he put up a huge fight, growling and snapping at anyone who tried to approach him. It was really ad as Shilo was probably my favourite of the four dogs we have. He's normally such a sweet playful boy, but he does have a mean streak. The last time he was wounded in a fight (with Brownie), he tried to snap at Dad when Dad was applying the medication too. I hope the SPCA will not put him down. He will make a good guard dog for a factory, I think. He will probably not be a safe dog to have around children, which is really sad as I think most of the people who adopt dogs from the SPCA are families who want family pets.

Tonight has been a terrible night for the dogs. Poor Butch is now hiding under the car. All of them hate fireworks and fire crackers, but it seems to bother Butch the most. Both he and Brownie were barking loudly earlier tonight. I think Butch is now hiding under the car. Poor boy. Fireworks and firecrackers are illegal in Malaysia. I don't know why the authorities don't do something about it. It's now midnight and there are neighbours setting off fireworks – very loud ones too! I think it is very inconsiderate of them as it is probably the same neighbours who will complain about the dogs in the neighbourhood barking when they set off fireworks. Ok, I am being a whiner tonight, but it really gets up my nose that people are setting off fireworks and firecrackers at midnight. Some people need to sleep, Chinese New Year or otherwise!

Ok, onto more positive news – I have completed my Opal socks tonight – FINALLY! I will take a picture and pos it when I get a chance. They were easy enough to knit, and I think I like the fabric I got from knitting with 2.25mm needles. It is tighter ad stiffer than my other socks but will probably wear better as well. I will have to compare them to my other socks once I have worn them and washed them a few times.

Unfortunately I have bee so busy that I have hardly had time to check my email and I never made It to any of the knitting meet-ups in KL. Maybe next year, if they will still have me.

Gong Hei Fatt Choy everyone!