Tuesday, January 18, 2005
I must, I must stop shopping!
Al I have done since coming home is eat, sleep and shop. Ok, I lie.. I went to work today, but I did shop!
So far, I have bought 5 airs of shoes, and 6 tops! Among them is the top I intend to wear to Joel's wedding. I ought it from
NafNaf
in KL. Everytime I go into that shop, I am bound to buy something. How terrible!
Here it is..
It's not too shiny. The design is actually quite subtle and it didn't really come out in the picture. I intend to dress it up with some jewellery and a shawl. I doubt I can make it myself so I will use one of the woven silk shawls given to my by Mum.
I have not been able to do much knitting. Needles were not allowed on the plane, so I had to crochet instead. Silly me.. I had thought that I had forgotten to bring my crochet pattern with me, so I bought a copy of the Creative Knitting annual to get a copy f the Jo Sharp shawl I am crocheting. What a disappointment! There wasn't really anything else I wanted to make it it. Many of teh patterns can be downloaded for free from various websites. Most of teh articles were not even written for the local audience. Once again I am glad I did not subscribe to it.
I will continue to post updates on the blog eventhough I am on holiday. I hope to have progress pictures of my knitted items the next time I post.
Thursday, January 13, 2005
1 more sleep!
I'm all packed and ready to go.

I can't wait..
We went out for some last minute shopping tonight. All done, I think...

See you when I get to Malaysia!

Oh, and Mona, I spin using a wheel, not a spindle, and the wheel is way too hard to cart home with me.
Wednesday, January 12, 2005
2 more sleeps...
and two more days at work...

I can't wait! I have started packing but I don't know how much to bring. I expect to do some shopping in KL - ok, well, a lot of shopping! As usual, I am sure I will be packing too much..

I have packed Chris' pressies for my parents. Those were the first things to go into the bag. I now have to work out what else I am packing. There isn't much space left after I pack the presents.. and I am thinking I should pack two bags instead of one. You know, I still have not received my tickets. I should be getting them tomorrow. I had better be getting them tomorrow! I fly the next day.

The Opal socks are coming along nicely. Since I was using a 100g ball, I made the socks slightly longer than usual. I am not sure I like them so long. I am up to my 10th stripe of 15 stripes for the leg of the second sock. I doubt I will be able to finish the sock before leaving Sydney - I will just have to take it with me.

Remember the Nouveau shawl?
I am thinking of bringing some red mohair wool with me to crochet that on board the plane. I know they won't allow me to bring needles on board a plane, but surely they wont object to a crochet hook. I am actually considering bringing a pair of skewers to use as needles on teh plane. If they decide not to allow that on board the plane, what wuld I have lost - a pair of skewers! However, what can I knit with 3mm skewers? I am thinking of something lacey.. what do you think? Maybe a lacey version of the multidirectional scarf? But using 3mm needles, that will take me forever to finish!

I don't know what else can take with me to crochet. I'd like to make a shawl, but can't think of a suitable pattern. Do you have one to recommend?


Monday, January 10, 2005
4 more sleeps...
... and I confirmed my room at the Hyatt in Singapore today. I am very excited. I have started packing and there seems to be so much to pack! I have put aside Chris' presents for my parents so I won't forget them.

I started winding some lace weight wool yarn that I have in skeins. I thought I'd wind them now so that when I want to knit it, it will all be ready for me to knit. I didn't get very far. It's been so long since I last wound lace weight stuff that I had forgotten how tedious and boring it is to wind hundreds of metres of this stuff. I wound two balls and then gave up. Oh well, two down and uhm... 10? 15? to go.

I only worked for the first half of today. I decided to see the doctor about my ear ache. Of course when I dcided to do that, the earache went away! What a pain! I went to the doctor anywayand she told me to keep an eye on the ear ache. She also prescribed some blood tests and an ultrasound as she suspected I may have polycystic ovarian syndrome (unrelated to the ear ache). I'll have to do the tests when I return to Sydney. I hope it comes out clear.. It's all a bit worrying, although she did say not to worry about it. But all doctors always say that - don't worry, like as if worrying is a switch we can turn on and off!

Hmm.. I'mm off to try to catch some shut eye.... if I can.


Thursday, January 06, 2005
8 more sleeps...
First things first – here is a picture of the blue-ish greenish purplish pinkish (overall ocean-ish) yarn I mentioned in my last post.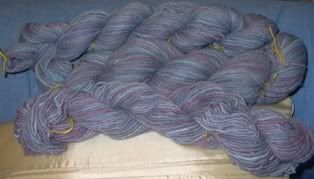 The top skein was the one I spun last and the lowest skein is the one I spun first. As you can see, the first skein is a little over twisted. Oh well, live and learn.
The colours did not come out too well.. here's another shot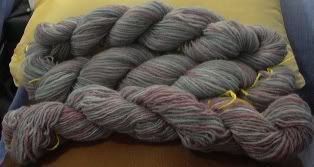 It does not look as ocean-ish in the pictures as it does in real life.
I thought as first that I will knit a stole using seafoam stitch, but now that I have felt the yarn again, I am not sure it is soft enough to be turned into a shawl. It's not course like sand or anything, but it's not super soft either.
Remember the mohair scarf I was knitting? Here it is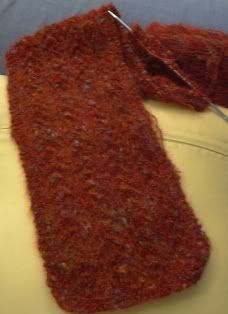 The lace has not turned out too well in the picture. The holes are clearer in real life than in the picture. I will try photographing it again after blocking it.
Today I went to Spotlight to get a replacement set of sock needles for the ones that were lost in the post. After reading
Donna's
post on KR, I thought I should check out the yarn. No, I don't need any more, but I thought I'd look anyway. Naughty, naughty. I don't know whether I should be happy or sad that they were not selling the Angora Supreme at $2 a ball. At $7.10 a ball I didn't feel inclined to buy enough for a jumper. At $2 I may have bought it , but certainly not at regular retail price. I did, however, find some
Patonyle
at $2.99 a ball. I bought 4 balls of colour 4305, the only colour they had in stock.. I am planning on using to knit some lace or cabled socks as the colour patterns are random and should not interfere too badly with a lace or cable pattern.
Hmm.. have I mentioned my non-yarn-buying resolution? Yup, that's right. I have decided that I will start on 1st February this year. I will not buy any yarn for 4 months and try to knit up as much as I can. At 1st of June, as it is my birthday, I may choose to reward myself with a small yarn purchase. After that I will not buy any more yarn till 31st December. By then I should have knitted up a fair bit of the yarn I have in my stash (a fair bit would mean about 15% perhaps) and will allow myself another small purchase at the Spotlight or yarn store sales. I hope that by going on this yarn 'diet' I will be able to make some room in my closet for things other than yarn! I guess that is my new ear's resolution this year.
At Birkenhead Point, after leaving Spotlight, I went to Gloweave to see whether I could get Chris some shirts for work. I managed to get three shirts for him. I hope they fit, but I guess if they don't, or if he does not like them, he has 30 days to change them. After that I was naughty and dropped in at David Lawrence. I should not have. But I did. And I walked out with 3 summer dresses and a shift dress for work. I bought all four for less than the original price of one at regular retail price. That should have made me feel better, right? Wrong! I would never have bought a David Lawrence dress at regular retail price – not at the $250 and above price tag attached to them! I wasn't going to shop in Sdney before returning to KL. Oh well, resolution broken. I will not be shopping any more. I want to save up my little pennies to shop in KL where everything is infinitely cheaper than they are here.
Another 8 more sleeps before I see my family.. I am very excited. I spoke to my mother today, and she's setting up an appointment with the hairdresser and beautician today for a haircut and a facial for me. I have not found a hairdresser in Sydney I like yet, so each year when I go home to KL, I get my hair cut by Raymond, who has been cutting my hair for the last ten years or more. When we go to see him, it's a family affair. My parents and grandmother get their hair cut by him too.
I can't wait to be home!
Tuesday, January 04, 2005
10 more sleeps...
...till I get to see my family again. I will be leaving for Malaysia on the 14th of this month. I am very excited as it has been a year since I last saw my mother and grandmother. I will be spending a significant portion of my time away working in Singapore, but I am still very happy to be able to spend time with my family. It is very unfortunate that I will have to leave KL on the third day of Chinese New Year, but I do have to be back in Sydney on the 12th of February for Joel and Yenni's wedding.
At work today, I received an email saying that the company for which I work has donated a sum of money to the Tsunami relief appeal and will match, up to a limit, dollar for dollar any donation given by any employee to the Red Cross/Crescent or World Vision. It is good to see, and hear about, people trying to give to others in need. Chris and I have given to the Red Cross and now we are both waiting for work to set up the donation matching fund so that we can give some more. I would encourage everyone to give at least a little to help out. Every cent counts. I mean, consider it, compared to the Thai Baht, the Indonesian Rupiah and the Sri Lankan Rupee, one pound, one dollar, or even one ringgit, is worth a fair bit. My parents have also given to the relief fund. I heard from Dad today that both he and his business partner are matching the donations of their staff. I am so proud of them!
Thanks to every one who emailed me or left me messenger messages asking whether I have been directly affected by the Tsunami. As far as I know, nobody in my family has been directly affected by the tragedy. I thank God for that. Eventhough I have not lost any friends or family to the tsunami, one can't help but feel sad that so many people's lives and livelihoods can be wiped out so quickly.
Last night I had the weirdest dream. I dreamt that I was spinning some yarn from some pencil roving that I dyed myself. It was a blue-ish greenish purply kind of colour with some pink spots - like the colours of the ocean. Well, I really am spinning a yarn from that roving, which I dyed on Saturday night. Anyway, in my dream I was spinning it because someone was paying me to do it. The strange bit was that part of the deal was that i had to name it. I struggled with it as I could not think of a suitable name, and I finally namd it Tsunami. As soon as I said the name in my dream I woke up. How bizarre is that?! I will take a picture of the yarn and you can see what I mean about the colours being really ocean-ish.
Right now I am knitting a scarf out of some mohair which was given to me. It's a bright red mohair held together with a black 'core' and it has some 'bits' in other colours. It's a simple 4-row repeat pattern. I suggetsed t Chris that I could sel it and give the proceeds to the Red Cross, bt he didn't think it would be worthwhile as I may not get much for it. Oh well, there goes that idea... I started the scarf when we drove up to the Blue Mountains on Sunday, and I have completed about a third of it.
We stayed at
Peppers Fairmont
at the Blue Mountains. Unfortunately it did not meet our expectations and we were disappointed. We expected it to be a Romantic getaway, but the place was full of screaming kids. Now, I don't mind children, but screaming ones.. AAAAAACK! When we arrived at about quarter to two in the afternoon, the room was not yet ready for us, so we had to wait, and wait we did. That was ok as check in time is officially at 2pm. When the clock stuck two, we attemped to check in again. The room was still not ready, and they offered us a free drink at the bar while we waited. By then, we were hungry but we were still wanting to go out to Leura town for lunch. SO we had our drinks and then tried to check in again. Thrid time lucky I guess. The room was nearly ready, and we were told that if we staretd heading downstairs to the room, it should be ready by the time we got there, and it was. By then we were not sure that there was any point in going to town to get lunch as most cafes would probably have stopped serving lunch by the time we got there. So we ate at the bar.
That night, we decided to have a nice meal at the restarant. At $70 a head excluding drinks, we expected a nicer restaurant. unfortunately that was not so. There was a family sitting near us with two very loud children. The ambience was anything bt romantic. hris had to send his entree (rabbit tortellini) back to the kitchen as it was undercooked (or freezer burned, we speculated later). When it came back, it was just as hard! I must say that we were both impressed by our mains. I had the beef sirloin and Chris had the veal fillet. tehy were both very good. The dessert was also brilliant. The chocolate mousse was heavier than expected, but most certainly very rich and decadent. Chris' summer pudding was beautiful and quite light.
We headed home yesterday morning, but not before stopping for breakfast at
Solitary
. My banana bread was very nice. Chris had scrambled eggs with chives, sourdough bread and pancetta. The sourdough bread was the nicest I had tasted in a long time. I would certainly recommend this restaurant for breakfast to anyone visiting the Blue Mountains. I am eager to sample their dinner menu the next time I am out that way again.