It's only been 4 weeks since my last post rather than 6 weeks.
We've been rather busy here, as always. We've had some illness, not a lot, and I've probably had the worst of it. Miraculously (and fortunately), Alex has escaped mostly unscathed. There was a confirmed case of chicken pox at the daycare centre where he goes, but he did not catch it. He also escaped the hand, foot and mouth bug that was doing the rounds. He hasn't been quite so lucky with conjunctivitis and right now is nursing two rather sore eyes.
I have been busy sewing.. and there are never enough hours in a day to finish everything that I want to make.
First up, we have a soft toy which was for a swap. I can reveal it now as the recipient has received it today.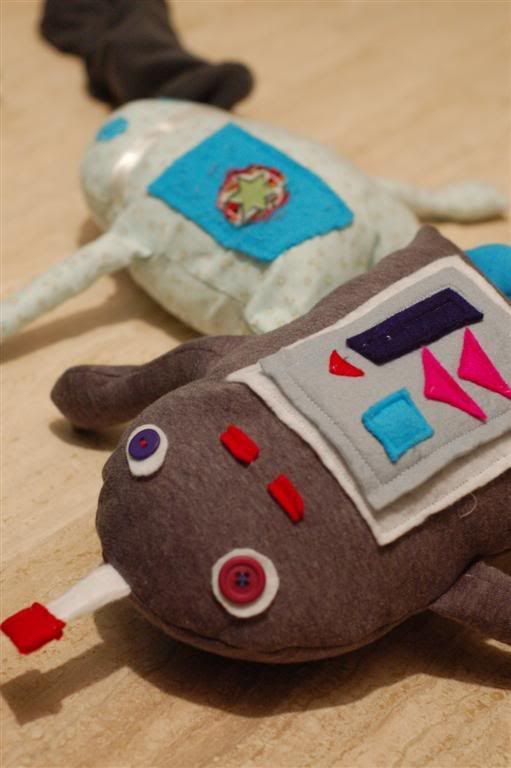 I made the body using some fleece backed interlock type fabric (is that what you call it??) It doesn't unravel, which makes for easy sewing. The "features" on it are made from cut up pieces of felt and fleece.
Oh and the little green one in the background is Alex's "Momo". I made it some time ago and at first I thought he'd hate it as it is rather ugly. Alex has grown rather fond of it and pretend play has taken off in a big way. Alex now tries to feed Momo and "read to" Momo and invites Momo to sit with him. He seems to understand that Momo does not really eat as he offers Momo a sultana, makes eating noises and then pops the sultana into his own mouth!
I also made Alex a couple of jackets: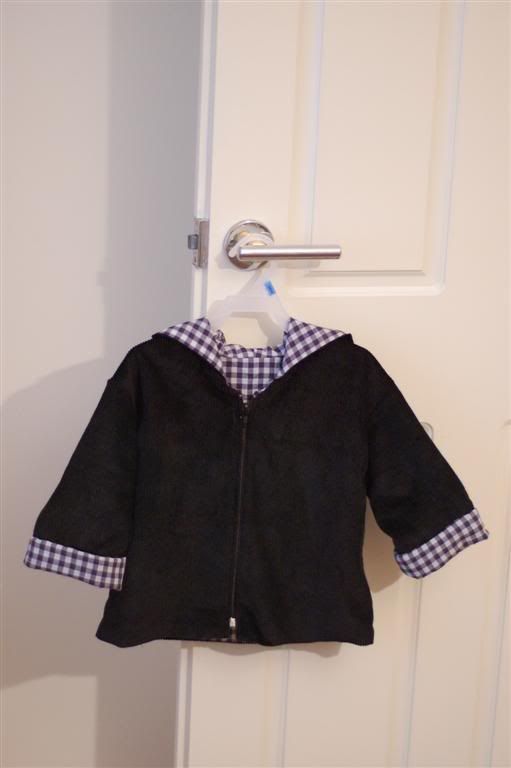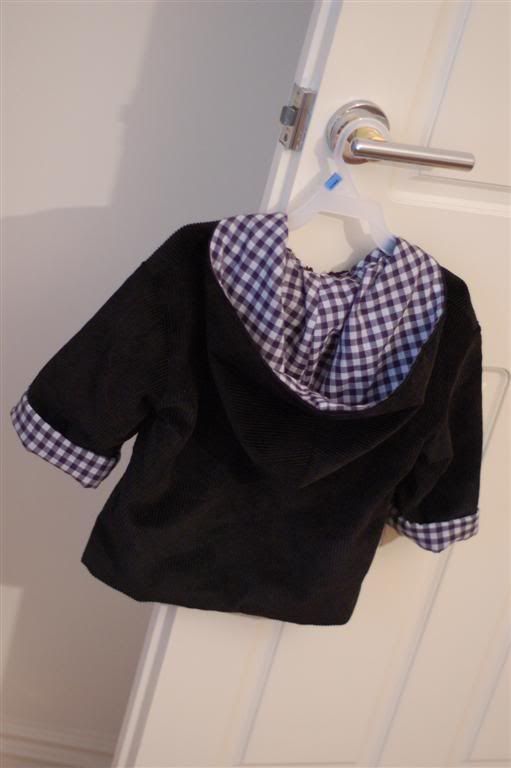 front back
I made another using grey fleece as the lining and a blue dinosaur print fabric as the shell. It's come out rather cute, but I don't have a good picture of the finished piece. Here it is before I put the zip in.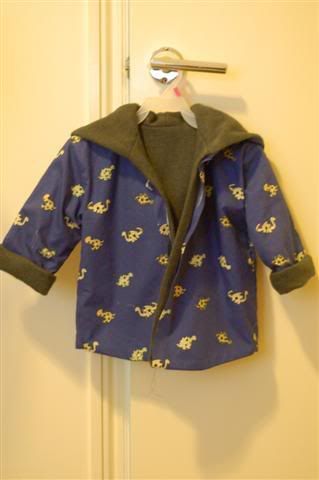 The whole jacket is reversible aside from the zip. I have since discovered that there are such things as reversible zips. I can't find them at my local Spotlight, so I'm guessing they are a bit of a rarity and I will probably have to look in my not-so-local sewing specialty store.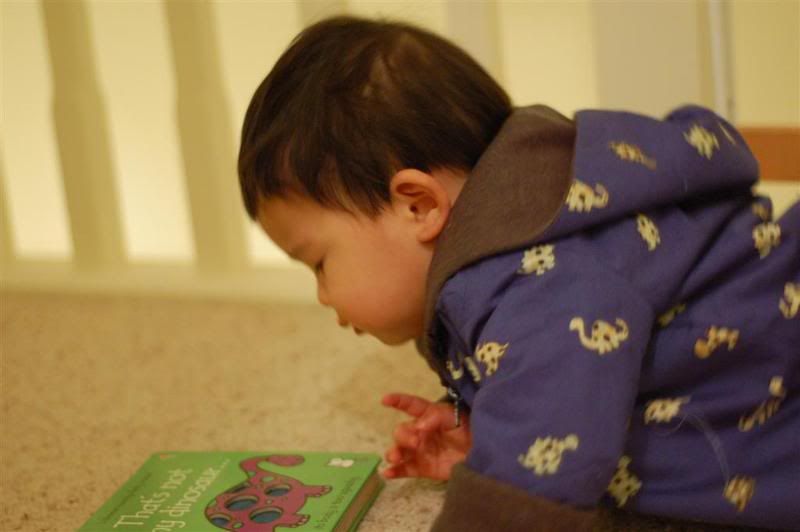 I am on a self enforced yarn diet, mainly because we are running out of room to store it. I did buy some whilst at San Francisco last month. I'll post pictures later when I have retrieved them from the server. I went to Artfibres and drooled over everything there. So many pretty colours and textures, all wanting to come home with me! I managed to restrain myself, which was rather difficult considering that I had a couple of credit and charge cards with me. I ended up with 3 small balls of yarn. I have plans to weave them into lovely scarves for myself, but that has yet to happen.
Speaking of San Francisco, did I mention my very long walk? I don't think I have walked that far in a day since, and it had certainly been a while since I last did that. My muscles ached for days afterwards, especially the ones I had forgotten.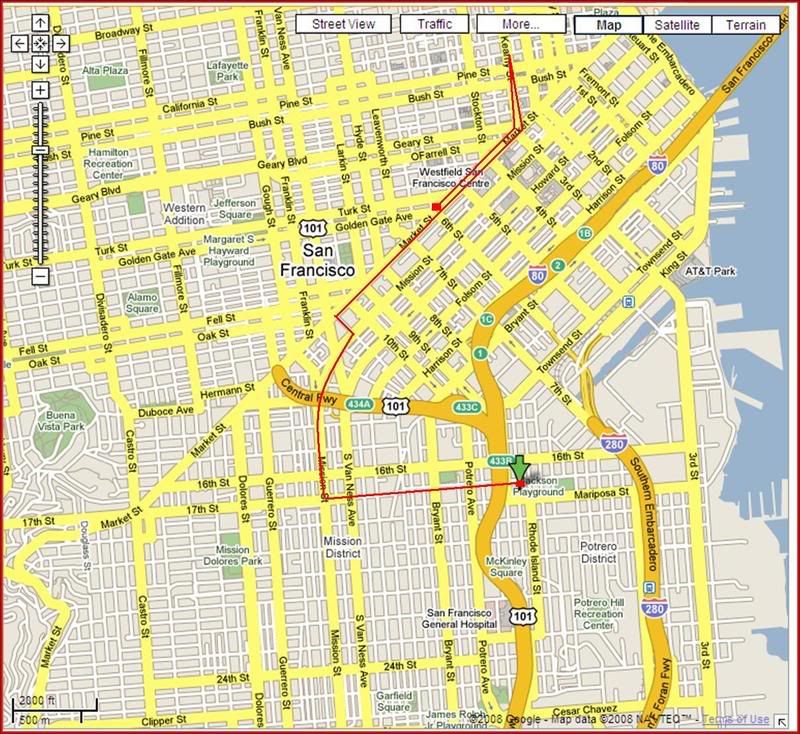 The red line traces my route. I walked from Portrero Hill across to one discount fabric store, then another, and then all the way down Market St to Artfibres. Oh, and then I headed back again, finally giving up and hopping on a bus somewhere around the intersection of Market and 6th.
I couldn't possibly have a whole post without sharing more photos of the little man, now, could I?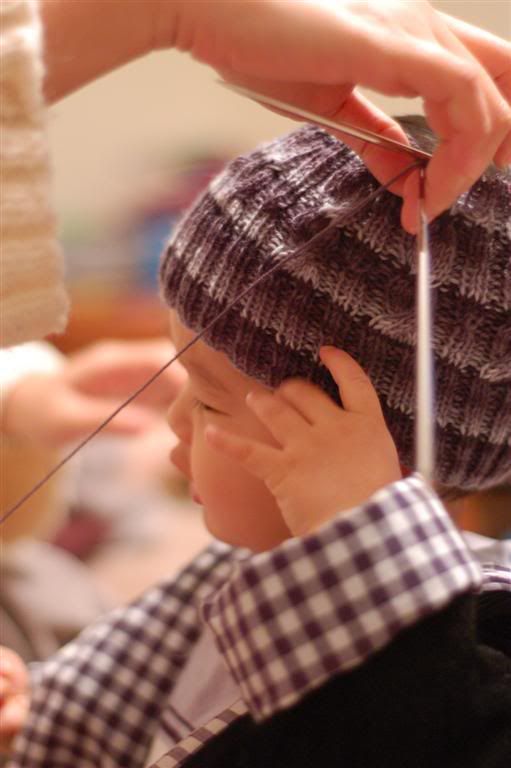 He patiently allows me to try his hat on for size...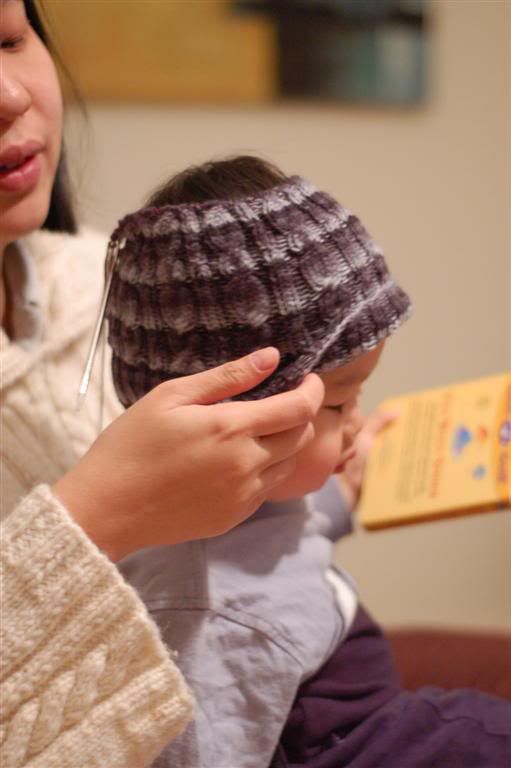 still not big enough...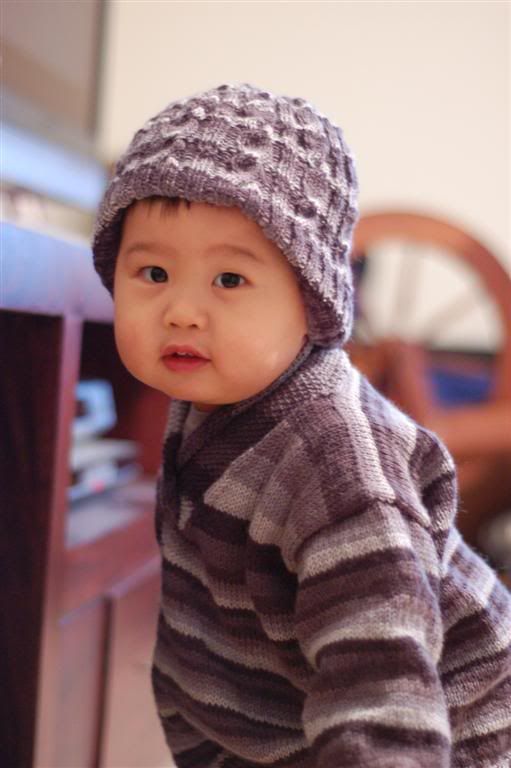 All completed.. along with a matching jumper.
Both the jumper and the hat were knit out of Regia Banner yarn in greys and black. I don't like the way the front of the jumper pulls up. I think it is because I have not cast on enough stitches around the neckline. However, I am too lazy to fix it so that is the way it will stay.
And we leave you with...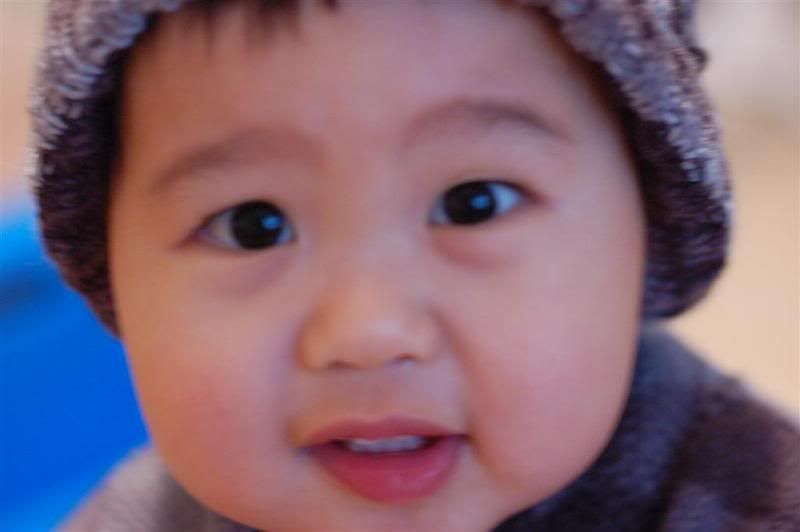 Hellooooo...
Labels: Alex, hat, jacket, knit from your stash 07, Momo, sewing