Life, and work, just got in the way of blogging. I have so much to share I don't know where to start.
Perhaps I will start with the smallest.. a tiny little cardigan for my colleague who is expecting her first after a long journey towards motherhood.
She has been a great help to me specially in the last couple of years. I am going to miss her when she goes on maternity leave for six months, but I know she has been waiting for this for a long time and will be savouring every moment she has with her baby girl.
The pattern is Paxton, written by StitchyMama. It is a free Ravelry download and comes in three sizes. This is the middle size and only used about 60g of Bendigo Woollen Mills 8ply cotton yarn in Mango.
I also managed to finish knitting a jumper for Alex out of Utiku Multicolours (Ocean colourway) and grey Scheller Stahl Edelweiss(now discontinued). The boy is growing so fast that he's nearly too big for the one I made for him at the end of last winter. I made it big, so that it will last all of this winter as well. Alas.. it won't be long before he outgrows that one. This one, I had hoped, will last him till the end of next winter. However, when he tried it on, I realised that it is not as big as I had thought.
If I am lucky, it will last till the end of this winter.
I have another one in the works.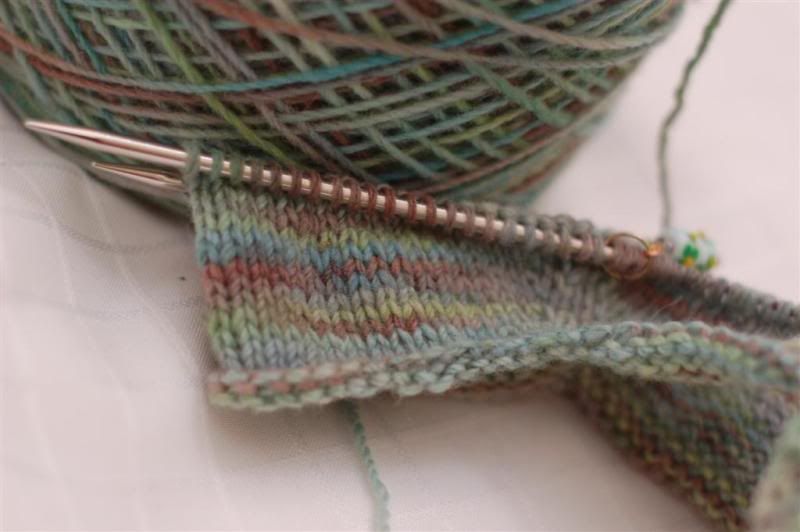 The yarn is an 8ply 19-micron merino yarn I bought from a local mill. I am testing it out as I intend to stock it in my store. It's knitting up quite nicely. Once I know that it washes and wears well, I will be more than happy to stock it. It is nice to knit as it is lovely and soft. I find it not the slightest bit prickly.
I hand-dyed it in shades of green, blue and brown. I am hoping that the colours won't pool. You know how unpredictable that can be sometimes. It is looking like it won't. So I am happy.
I also dyed up a batch of organic 19-micron merino wool from the same mill. It is dryign outside right now. I am hoping to be able to stock that too.
The wheel has not been at rest either. I have been busy spinning some corn and bamboo as well as some soybean fibre. I found teh corn very difficult to manage. It is like cotton - short fine fibres and the fine line between enough twist and too much twist. I gave up and ended up carding it with some bamboo and spinning a thick/thin lofty single which I plied with a bamboo single. Bamboo and Soybean are both a joy to spin. Lovely soft fine fibres with a long staple. Photos next time as I have not managed to snap decent pictures of them yet.
Now that I am done spinning all that I have moved on to some English Leicester lambswool that I bought from
Moseley Park
. It has a lovely sheen and nicelong staple. Being lamb's fleece it is also soft, but not in the same way as merino, which I am used to spinning. I am hand carding the locks together into large rolags and spinning those long draw. See, here is where a drum carder would be really nice, and I am still saving up for one of those babies.
I also bought some "Joe" from Jane, who runs Moseley Park. Joe is a Border Leicester x Corriedale x English Leicester x Finn. Definitely a cross-bred sheep! His fleece is a joy to spin. It practically spins itself. Once I am done with the English Leicester lamb, I plan on spinning up all of Joe's fleece taht I have and turning it into a jumper for the kid. It's quite a soft fleece - soft enough that Alex probably won't complain.
Oh, and the sewing machine has been busy too.
Presenting...
my first quilt!
I am so proud of it. I used pre-cut blocks for most of the top, matched with strips cut from some curtain fabric remnant and some blue homespun cotton. In case you can't see it, the picture blocks are Bob the Builder blocks.
I used a printed cotton flanelette fabric for the backing
You know what's the best thing about this? Alex likes it. He has been sleeping with it all week!
I have also been making reinforced undies for him. My little boy is growing up. He has been very good about going to the toilet and trying to keep his nappies dry and clean. Soon he will be in undies. I am sewing on an extra few layers of absorbent fabric for catching little accidents. I am using 1 layer of bamboo and 2 layers of plain white cotton flanelette. It's not mean to catch a lot of liquid, just enough that it doesn't go everywhere. I hope it works!