so little time.
I really should post more than once a month. Well, now that I have signed up for the Backtack swap, I will have to, won't I? The rules say that I have to post regularly. At least once a week is what it says, I think. So you'll see more of me (or Alex) even if it is only to say "hi" and provide evidence that I am still alive and knitting/sewing/spinning.
I guess I should start buy announcing that I have (finally) restocked both my stores with new yarn. About time, eh? I have put up for sale some skeins of 8ply (DK) and 4ply(sock/fingering) weight yarns at the
Ozebaby store
and some 4ply yarns at the
Etsy store
. Bear with me while I experiment with the photos. All the photos I have taken look quite dark and don't really show off the colours of the yarns all that well.
And.. that brings us to our project for the long weekend. Chris has said he will make me a lightbox. We're going to try out a few things tomorrow and go to the shops for the stuff we don't have. I hope that by Monday, my photos will be looking much better!
Not a lot has been accomplished in the past month. I have managed to do some knitting, weaving and spinning, btu don't really have much to show for it.
Let's see, first there is the Hourglass sweater from Last Minute Knitted Gifts
I used some KnitPicks Andean Silk in chocolate. Well, when I say "some", I really mean "some 13+ balls"! It's a good fit, but I only just completed it days before the warmer weather hit us. I have worn it twice and now it has to be put away for next winter.
This jumper of Alex's will also not see much use
He has worn it a few times since it was completed, but since tehre isn't much room for growth (who's a silly Mummy now?), it is unlikely he will wear it next year. What a pity! The Waverley Mills merino that I used for it is lovely and soft too.
Speaking of Alex... he has been growing like a weed. Fortunately (or unfortunately) the growth seems to be focused on height and there is next to nothing happening to his circumference. He has been eating like a horse, and probably can eat a horse too, if we let him!
Recently he has discovered that my handbag is a good place to look for delicious "bikkies" (biscuits/cookies).
I now have to put my handbag where he can't reach it. In fact I have to put all edibles (and non-edibles) that I don't want him to touch where he can't reach them.
One evening when I brought some groceries home, I left them outside the kitchen while I started cooking dinner. Alex was sitting outside the kitchen as he is not allowed to wander around in it. I could hear him naming all the things he was pulling out of my bag - "capcum" (capsicum), bread, "ah neen" (onion), "tay toe" (potato) and so on. All of a sudden he was quiet. I peered around the corner and there he was, sitting on the floor with a mouthful of crumpets. He had found a packet of crumpets in the bag, opened them and helped himself to them! When he saw me, he offered me the package, "Mummy, mumpet?". I started scolding him for not asking before opening a package, and he gave me the saddest look and said, "ungwee.."(hungry). How could I be angry when he didn't know any better? Needless to say, he had an early dinner that night.
Of late, he has been eating more of our food. I have stopped cooking him his own "special" food unless we are out where the food is too heavily seasoned for him. We've found that he loves his noodles. He can say noodles and pasta and can't tell them apart. It doesn't matter as he likes both as much.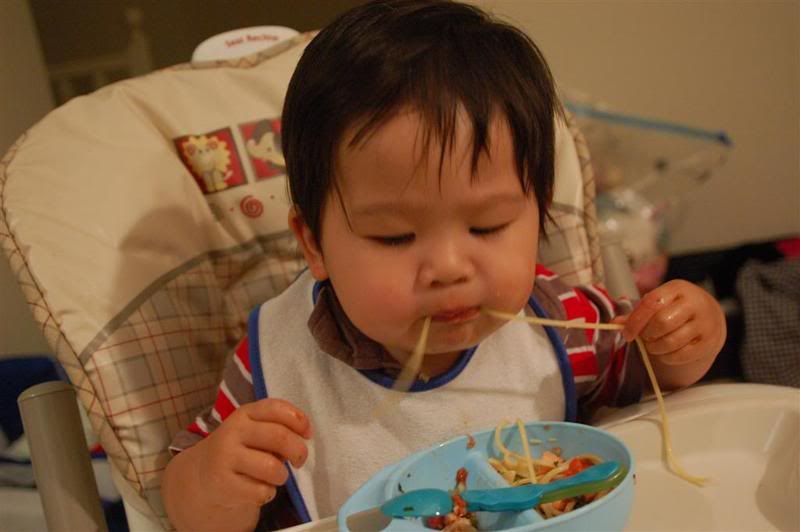 As you can see, there is much slurping action in the dining room when pasta or noodles is on the menu.
Tonight we found out that he enjoys pizza too. I made lebanese bread pizzas for dinner with a homemade tomato sauce on the base. He ate about a third of a lebanese bread, and believe me, those things are LARGE! On his pizza, I used some minced beef, carrots, peas and corn for topping and then added some shredded cheddar and mozzarella on top.
Here's a photo of him pre-haircut. We cut his hair tonight. He squirmed and protested. "Itchy itchy", he said. "TICK ISH" (ticklish) he scremed, but I persevered.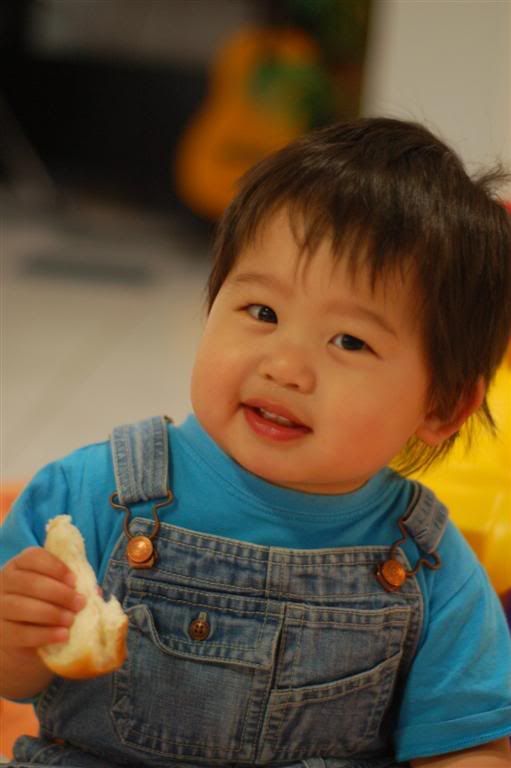 I'll have a post-haircut photo for you in the next post.
Labels: Alex, HourGlass Sweater, knitting