Where has the year gone?
Remember this?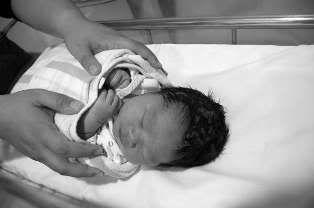 That was last year. This is this year.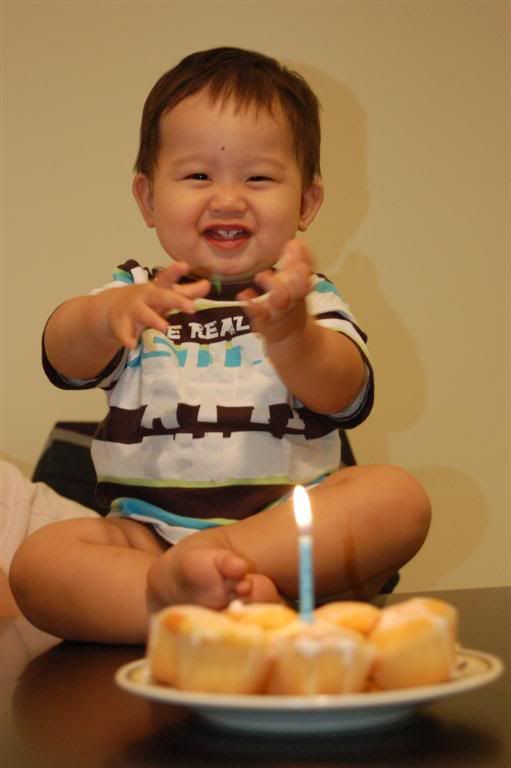 Alex turned one yesterday and all of a sudden, with his new hair cut and new found confidence, he seems like a big boy and no longer the wee baby I knew. He now walks holding on to us with only one hand. Before I know it, he will be toddling along on his own. The thought of that brings a little tear to my eye. He's growing so quickly, I can barely keep up. Selfishly, I wish he'd stay a baby for a little longer, but I am also glad that he has grown and developed so well over the past year.
I was going to have a Christmas post, but did not find time... so here it is...
It was Alex's first Christmas, and boy, was he spoilt!
He had a ball wandering around the in-laws' house, even managing to find the stairs and climbing halfway up.
Here he sits amongst his mini mountain of presents
I'd like to say that I had nothing to do with it, but the truth is that I am partially responsible. I thought I would stick to the "only one present" rule, but that didn't really happen. From my parents in-law, he received a Tonka ride-on toy and a whole lot of new clothes. from my sister-in-law and her fiance, he received some musical instruments (which he loves!) and some bath toys. My parents bought him the Magna Doodle toy. Chris' cousin and his wife bought Alex the Mr Potato-head toy and we bought him a shape sorter and some books. So.. is he spoilt or is he spoilt?
We had a relatively simple Christmas eve meal. Everyone helped to put it together.. which is part of the fun of a Hernandez Christmas. This year I made roast pork, which came out quite well, even if I do say so myself.
I received, from my sister-n-law and her fiance, a creme brulee torch. Can you guess what we had for dessert that night?
On Christmas day, we had dinner with the Cooper-Garrett clan. Always a fun event and Alex scored more presents! He was given a Fisher Price Gumball machine which he loves. He pushes down on the handle to make it "sing", and sing it does! It plays one of those crazy tunes that's a cross between a carnival game type melody and a pinball machine type melody. He was also given a knitted cat, which he thinks is fantastic. It lives in his cot and he sleeps with it every night!
What better gift could one give a knitter's son? Especially when he is the son of a knitter who does not like knitting toys. Why? That's a story for another day, I think.
All in all, we had a pleasant break from work over the Christmas week. I did not log in to work for a whole week! That's a first for me. At the end of the 10 or so days of holiday, we had Alex's first birthday. Poor boy was born on the day when everyone goes back to work, so he is destined to always have small birthday celebrations, I think.
We had a small celebration for him with a mountain of cupcakes. I made 52. It was an accident.. really! I was trying out a new smaller cupcake tin and ended up with more cakes than I thought I would. I still have half a mountain downstairs in the kitchen!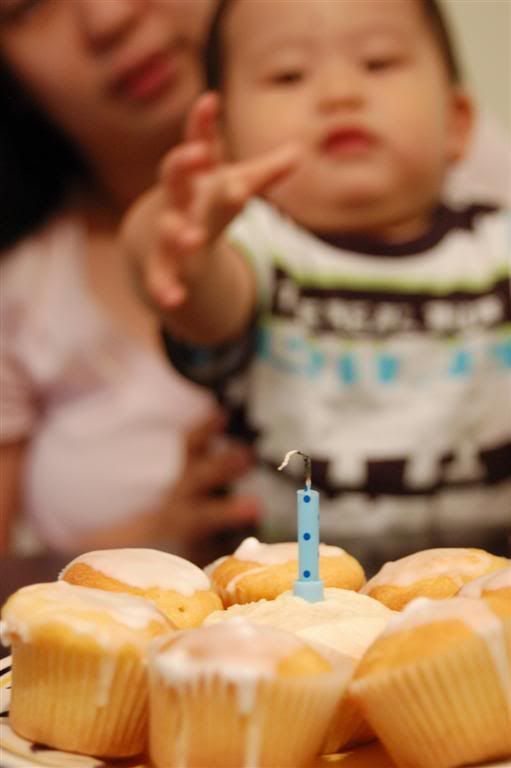 Alex loved the candle and it was then that I realised that it's probably the first time that he's seen a flame up close. he doesn't know yet that it burns and that's ouchie!
He loved the cake too, and could not get enough of it!
Since he was so spoilt with toys and clothes for Christmas, we did not buy him too many birthday presents. My parents sent me out to choose a book or two for him. Alex ended up choosing one and I chose the other. No, really, he did choose one book. He threw a tantrum when I put it back on the shelf - a reaction that I got with no other book. He really likes that "Monkey peeps" book. It makes him giggle when the monkey falls out of the tree! Chris and I bought him a new tee shirt and some new pants. He'll be wearing those this weekend when he celebrates his birthday with Chris' family.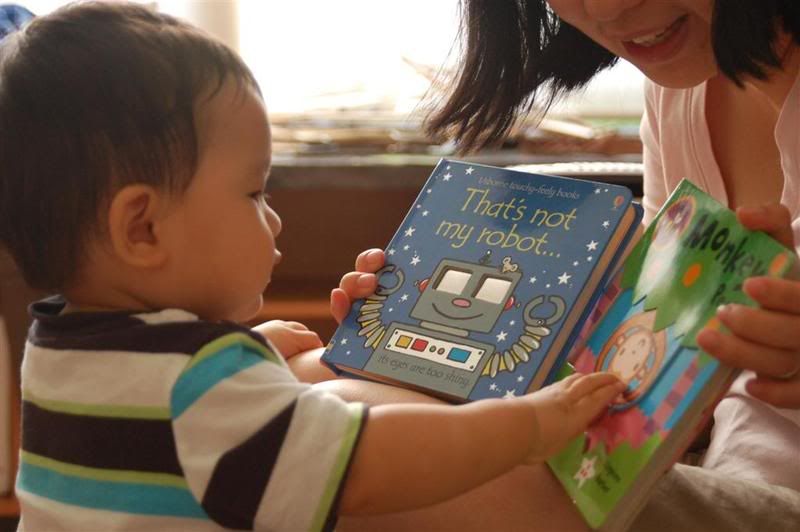 So.. what has the past year been like for me?
So much has happened in the span of a year.
In January, Alex was born and Chris bought a new car.
February marked Alex's first Chinese New Year.
In March, Chris' brother and his wife came home for a surprise visit. Doesn't sound like that big a deal unless you know that they live in the UK! What a pleasant surprise!
In April my parents came to visit and spent Easter with us. I also managed to get the only spinning I had done all year done then. We haven't seen my parents since then, though we do chat on Skype quite often. To Alex, they are just faces on the screen.. but that willc hange soon as we're going back to KL for a visit in February!
In May I posted off my ISE4 scarf. It was difficult to part with the scarf as I had grown quite attached to it in the time that I had spent spinning the yarn for it and knitting it.
I turned the big three-oh in June. I feel old now. Just old.. not grown up. I also started knitting things for sale then. Oh, and that was when I handed in my business project for uni. The end of my studies... what a relief!
July saw Alex tasting "real" food for the first time. Up till that point he had only ever had breastmilk, so it was quite a big change for him. He took to it like a duck to water and we haven't looked back since.
August... we fell in love with a house, after many long months of searching, and bought it!
We moved in September and for the first time in about 8 months, Alex slept through the night. Oh, what bliss! I strongly believe that it had a lot to do with him having his own room. Aside from the odd occasion when he is teething or not very well, he has slept through almost every night since.
Not much happened in October aside from a short trip to Canberra to renew my passport. So glad I don't have to do it again for another 5 years.
In November Alex was cruising and we thought he'd be walking pretty soon after that. We were wrong, though as he still continues to walk only with some assistance.
December was haircut month for Alex. He endured it well and now looks more like a boy than a baby.
What is in store for us this year? I wonder...