Tuesday, March 29, 2005
Thank you, my KR Secret Pal!
And, no, I still son't know who you are as the package arrived today ithout the full customs declaration. All I saw was your address, and Seattle's a large place!
Here's what I received...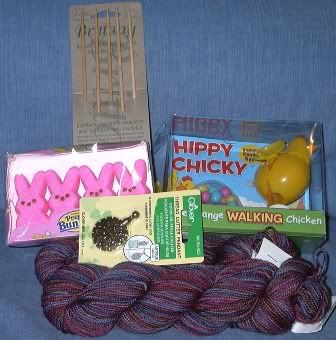 Wow! The Koigu KPPPM is beautiful! I know, te photo doesn't do it justice. The colour is much darer than it appears in the picture. Here's a close up. It still looks washed out, but you sort of get the idea.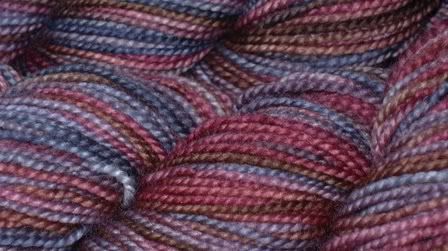 Thank you, KR Secret Pal!
You know, I looked at the pattern-a-day calendar and oh my! I feel so silly! I had just re-invented the wheel! There is a pattern for an almost identical hat in the calendar to the blue baby hat I had completed on the weekend. And I thought I was so clever too! Oh well, I guess that just goes to prove that coincidences happen.
I started another one of those hats, this time "celia-sized". Last night, mid-way through knitting the hat, my needle broke!

Anyway, I managed to complete it tonight. I used one skein of Patons Totem 8ply yarn in shade 2002.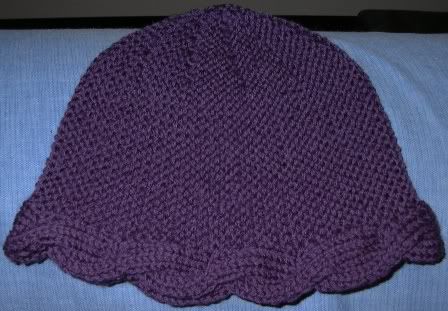 Oh, and Diana, remember that skein of red mohair you sent me for Christmas? Here's what it became.
I love it, eventhough it was not as lacey as I had hoped. It's wonderfully warm and just the right length to wear under my coat so it doe not get all bunched up. Thanks Diana!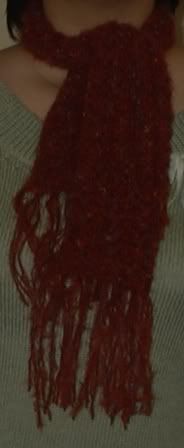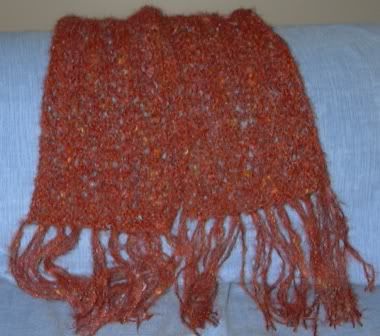 Oh, and I nearly forgot - I have added a recipe for creme caramel to the side bar. Try it, it's beautiful! It took me three or four tries to fine tune the recipe, and I finally got it right. It's most delicious.. mmm.. yummy yum yum!
Saturday, March 26, 2005
I promised you pictures...
... and here they are
First up, the Noveau Shawl that became a scarf. I tried to arrange it so that you can see the design clearly. I know that when I wear it, the lacey pattern may not show so clearly, but I am still quite pleased with it.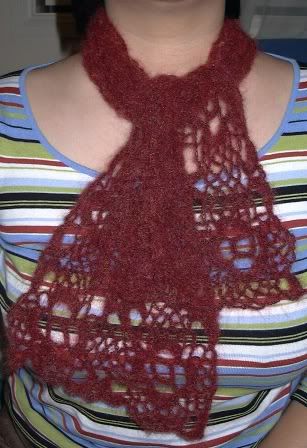 Next up is a picture of the feather and fan scarf that I completed but have decided is not quite 'me'. I used thick 100% mohair yarn and 8mm needles. The 'normal' feather and fan stitch has a garter ridge. I eliminated that ridge and instead creeated a few ridges between every few repeats of the pattern.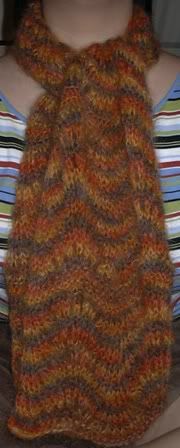 I also took a picture of the sleeve I was working on. This is the yarn that I have realised I don't have enough of. It is working out quite well. I like the sleeves. i was thinking that perhaps I can knit the body f the jumper in black. What do you think?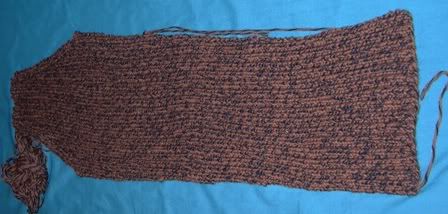 Last, but not least, the baby hat I was working on. I guess there is no reason why this has to be a baby sized hat.. as the pattern can easily be modified to fit ana adult's head. I decided to try out some of that yarn that I spun myself. If you click on the picture, you will see the same hat against a different background. I am not sure which background shows off the colours more clearly and accurately.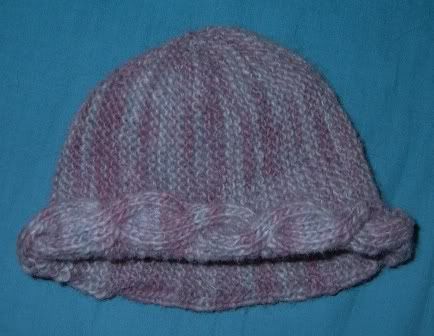 I spent much of today at Chris' parents. I cooked lunch, which was medicre at bext. The roast beef was overdone. The pork was quite nce, though. The potato bake was a hit, as always. I am not sure I will bother roasting vegetable for them in the future. I don't think they like vegetables much. Oh well.
Ginny was kind enough to show me how to paint my nails "french polish" style. Here.. see...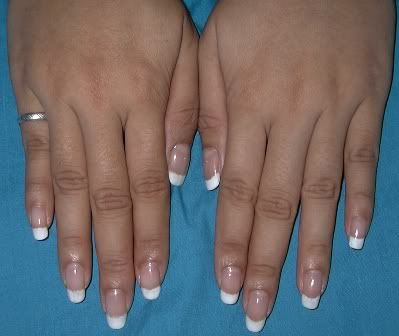 Not bad for a first time, even if I do say so myself. I hope it starts to look better with some practice. Ginny was also kind enough to buy me a french polish kit. Yay!
Wednesday, March 23, 2005
...
Been back for a week and still feel like I just got back yesterday. I wish I could blame it on jetlag, but really, Singapore is only 3 hours behind Sydney. So I don't know what it is. Maybe it's the weather. It feels like I brought winter back with me. i don't know where it came from, thugh, since Singapore does not have a wintr. The weather has turnd cold all of a sudden, and instead of hot and dry, it's now wet and cold!
It's funny how much I miss my colleagues who were in the pre-sales suite with me i Singapore. (The pre-sales suite was a part of the pre-sales symposium held by my company in Singapore, and the aim of it was to introduce our internal tools to the pre-sales folks) Who would have thought that being stuck together in one room for 6 days wold draw us so close. They were seriously some of the loveliest people I have met - such positive attitudes!
I did manage to get away for the weekend. I went home to Malaysia for the weekend and guess what! The jewellery fair was held at the Mandarin Oriental that weekend. Let's just say I went a little nuts buying up little cheapy stuff. I bought 4 pairs of loose pearls (3 pairs of freshwater ones and one pair of dark grey South Sea ones) which I will turn into earrings. I also bought two pairs of diamond loop earrings, two pairs of pearl earrngs (yes, I am into pearls at the moment) and some pearl pendants and earrngs for presents. Oh, and lets not forget my silver bracelets - two of them. I also bought what I described to my mother as "a garden for my fingers". They are a flower ring (made of crystal and mother of pearl pieces) and a butterfly ring made of mother of pearl pieces. Hmm... I just realised that I didn't buy anything for my next. Oh well.. next time.
Ok, enough about my jewellery purchases.. soon it will sound as if I have a bigger jewellery stash than yarn stash! We simply can't have that, now, can we?
On the knitting front, what have I done?
I got tired of crocheting squares for the second Nouveau shawl, so I turned it into a scarf. I'll have to take pictures and show you. It's lovely! I am glad that I decided to stop when I did. I now have a shawl AND a scarf. YAY!
Did I mention my feather and fan scarf? Well, it's done, and I really think I will not wear it. Not my colours at all. I haven't taken a picture of it yet. I'll probably try to sell it.
I started a new project on the weekend. I decided to make a jumper with ribbed sleeves from 1000 sweaters. I thought I'd use the yarn I bought from an Ebay vendor last year. Well, guess what.. I don't have enough. I started with the sleeves. I definitely have enough for the sleeves and then some. So the plan now is to have the brown/black sleeves and a black body. I may use the brown/black yarn for the collar. I hope it doesnt look too bad. I've
posted on Knitters Review
to see whether any of teh other members have any extra balls of this yarn so that I can complete the jumper in it. I'm not holding my breath though. I guess I still have time to track down some of this yarn. I am just about to finish the first sleeve. I still ave another to go. Maybe in that time someone will contact me to say they will sell me their extra balls of yarn.
And I was so proud of myself too.. not having bought yarn since the begining of Feb. Maybe I shuld just come to terms with not having any of this yarn left. Maybe I should just knit the body in black. maybe...
Tuesday, March 08, 2005
Singapore, Day 1
I have arrived in singapore, and my, was that a long flight or what! day time flights always seem so much longer than night flights - probably because I sleep less.

Emy, if you want to meet up some time this week, send me an email. When you leave comments, I can't see your email address and hence, can't reply.

I did not bring any knitting with me. Surprise!
I thought I'd be good and try to read my marketing text nstead, since I will be missing a class this week.

More later. I'm off to get a bite to eat now. Boy! I'm starving!
Thursday, March 03, 2005
KR Secret Pal3 has begun!
I am very excited, as KR Secre Pal has begun. i have received my 'giftee' and my 'gifter has contacted me. Yay! I am so excited. I am suse it will wear off eventually, but right now, I am thrilled to bits.
Oh, for those of you wondering what pho is,
here
is a description of what it is as well as a recipe. I have not tried the recipe out, so I can vouch for its results and authenticity, but from the list of ingredients I think you can pretty much get an idea of the delicious and aromatic flavours of the noodle broth.
On the knitting front, I have been fairly busy. I have started a mohair scarf using some variegated 100% mohair yarn from Poland. It's more than 60% done. It's not 'me' though. There is nothing wrong with it. I just don't think I will wear it as the colours aren't ones I normally wear. Don't even bother asking what I was thinking when I started the scarf. Photo to follow shortly...
The issues at university seem to have resolved themselves. Thank God! I wll be dropping International marketing Management and just pick it up again next term. I will be tavelling to Singapore next week, and it would simply be unfair to my team if I were to disappear for two weeks. I will continue to attend some of the classes, simply because I think it will be interesting. So this term, I will only be taking one subject. Thi whole confusion may prove to be a bessing in disguise. There seems to be so much work in Advanced Marketing Management.
I wil be away for the next couple of weeks and I am not sure whether I will be blogging again.. just check in, will you? Maybe I will have something new to report.